2 Nuts-and-Bolts Winners from iPhone 5
09/21/2012 3:20 pm EST
Focus: STOCKS
With a complicated gadget that contains parts from dozens if not hundreds of different companies, sometimes you need to take it all apart to see which part makers stand to profit the most, writes MoneyShow's Jim Jubak, also of Jubak's Picks.
IFixIt is out with its teardown of Apple's (AAPL) iPhone 5. Be the first on your block to get the inside dope on the insides of the iPhone (and to know what kind of screws Apple used).
My scan of the teardown suggests that the big component winners are Qualcomm (QCOM), which supplied the new 4G LTE modem, and Broadcom (BRCM), which supplied the controller for the touchscreen. (See the whole teardown here.)
The teardown raises an interesting question on the sourcing of the iPhone's A6 processor. While the slide of the processor during Apple's presentation clearly showed a Samsung chip, the processor in the teardown phone came from Elpida Memory.
Who? It's a Japanese chipmaker now in bankruptcy, and the subject of a bruising battle between Micron Technology (MU), which has proposed buying the company for $2.5 billion, and bondholders who argue that the company is worth $3.78 billion.
How many A6 processors from each source? Ahh, that's the number that counts. And that is so far unknown.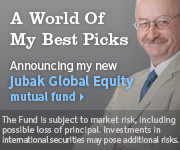 Full disclosure: I don't own shares of any of the companies mentioned in this post in my personal portfolio. The mutual fund I manage, Jubak Global Equity Fund, may or may not now own positions in any stock mentioned in this post. The fund did own shares of Apple as of the end of June. For a full list of the stocks in the fund as of the end of June, see the fund's portfolio here.