Can't Complain About These Earnings
10/23/2012 2:00 am EST
Focus: STOCKS
Freeport McMoRan didn't dazzle, but it beat most expectations and the outlook is improving as well, writes MoneyShow's Jim Jubak, also of Jubak's Picks.
In the current market, where everybody is worried about earnings growth at US companies, even positive earnings surprises come in two flavors. There are bad positive surprises and good positive surprises.
For example, I'd call it a bad positive surprise when a company reports better than expected earnings on a lower tax rate or one-time cost cutting, so that earnings rise even through revenues are stagnant or actually decline. There's a good chance that the company won't be able to find those one-time positive trends next quarter, and that the underlying revenue problem will rise up and bite investors.
And then there are good positive surprises where, despite an earnings miss, a company reports higher than expected sales.
That's the kind of surprise that Freeport McMoRan (FCX) delivered yesterday before the open of the New York markets. Third-quarter earnings of 86 cents a share were 13 cents a share above Wall Street estimates. But once you subtracted $85 million for one-time credit and $100 million for one-time tax adjustments, earnings came to 68 cents a share, below the Wall Street estimate of 73 cents a share.
On the other hand, revenue was down 15% year over year, but at $4.42 billion it still came in above a projected $4.35 billion. (Freeport McMoRan Copper and Gold is a member of my Jubak's Picks portfolio.)
Copper sales for the quarter totaled 922 million pounds, well above the company's prior guidance of 885 million pounds. The company reported a realized copper price of $3.64 as pound, slightly above Wall Street estimates. And net cash costs for copper came in at $1.62 a pound, slightly below Wall Street estimates of $1.65 to $1.67 a pound.
It's a very good performance for the quarter, considering continued demand slowdowns from Europe and China and lower ore grades at the company's Indonesian mines. The big dropoff in sales came not in copper, but in gold, where production totaled 202,000 ounces (versus company guidance for 225,000 ounces).
In its conference call, the company reiterated its full-year production targets of 3.6 billion pounds of copper, but did lower its guidance for gold production to 1 million ounces from the prior guidance of 1.1 million ounces. Full-year cash costs for copper climbed a bit from the previous estimate—to $1.50 from $1.47 a pound—although the company did project that yearlong costs would come in below third quarter costs.
Surveying the global copper supply-demand equation, Freeport said that while it expected demand from Europe to remain slow, global inventories of copper were low and the industry was experiencing production problems that would make an expansion of supply difficult in 2013.
Freeport McMoRan lowered its own capital budget for the full 2012 year to $3.6 billion from $4 billion. The company still expects to add a billion pounds of copper production annually over the next three years, even with this lower level of capital spending. Operating cash flows for the quarter were a healthy $526 million.
On a likely pickup in demand from China and on those continuing production problems in the sector, I'd set a target price of $52 a share by June 2013 for Freeport McMoRan.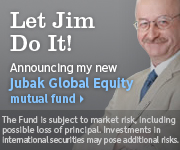 Full disclosure: I don't own shares of any of the companies mentioned in this post in my personal portfolio. The mutual fund I manage, Jubak Global Equity Fund, may or may not now own positions in any stock mentioned in this post. The fund did own shares of Freeport McMoRan Copper & Gold as of the end of June. For a full list of the stocks in the fund as of the end of June see the fund's portfolio here.