Yamana's Future Looks Golden
11/01/2012 4:00 am EST
Focus: STOCKS
The miner is on track to increase its gold output substantially at a lower relative cost than most of its peers, an undeniable combination, writes MoneyShow's Jim Jubak, also of Jubak's Picks.
For a while now, my definition of the kind of gold mining stock to own has been:
a company that is increasing production at a time when that's a challenge for the industry
a company that is holding cost increases below the industry average at a time when costs across the industry are climbing
With its October 29 report of third-quarter earnings, Yamana Gold (AUY) rang both those bells. (Yamana Gold is a member of my Jubak's Picks portfolio.)
On the top line, Yamana reported earnings of 24 cents a share, matching the Wall Street consensus. Revenues of $612 million, a year-over-year increase of 10.3%, came in short of analyst projections of $622 million.
The company sold 297,406 gold-equivalent ounces and 37.1 million pounds of copper. That was up from sales of 266,351 gold-equivalent ounces but down from 38.7 million pounds of copper in the third quarter of 2011. Gold production climbed 11% from the third quarter of 2011.
But those aren't actually the most important numbers.
In its conference call, the company reiterated its guidance for 2012 production of 1.175 million to 1.31 million gold-equivalent ounces. Targets for 2013 and 2014 show substantial increases to 1.5 million and 1.75 million gold-equivalent ounces in those two years respectively.
Cash costs, the company projected, on a byproduct basis would climb to $250 an ounce from the cash cost of $201 an ounce in the current quarter. Total cash costs on a co-product basis were $531 an ounce in this quarter. Compare that to projected total cash costs on a co-product basis at, say, Kinross Gold (KGC) in the recent quarter of $690 an ounce to $725 an ounce for 2012.
On these results, I'm raising my target price to $26 a share by October 2013, from my current target of $21 a share. Shares of Yamana Gold closed at $20.21 on October 31. The stock pays a dividend of 1.29%.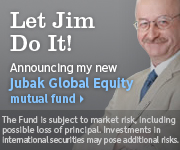 Full disclosure: I don't own shares of any of the companies mentioned in this post in my personal portfolio. The mutual fund I manage, Jubak Global Equity Fund, may or may not now own positions in any stock mentioned in this post. The fund did own shares of Yamana Gold as of the end of June. For a full list of the stocks in the fund as of the end of June, see the fund's portfolio here.