Freeport McMoRan Cuts the Cord
12/07/2012 7:00 am EST
Focus: STOCKS
The copper miner's self-interested plays for oil and gas producers have been an unqualified and unjustified mess, and there are now far better stocks to buy in this space, writes MoneyShow's Jim Jubak, also of Jubak's Picks.
I think it's safe to say that Wall Street really, really, really hates this deal.
Shares of Freeport McMoRan Copper & Gold (FCX) plunged 16% on December 5, on news that the company would acquire oil and natural gas producers Plains Exploration (PXP) and McMoRan Exploration (MMR) for approximately $10.3 billion in cash and stock. (The debt that Freeport McMoRan will take on brings the cost of the deal to $20 billion.)
The shares are down another 4.2% yesterday to $30.81. Freeport McMoRan Copper & Gold is a member of my Jubak's Picks portfolio, or it was until yesterday. I'm selling it out of the portfolio with this post.
I have to say I agree with the market—this is one stupid and value-destroying deal. The only question now is when to sell.
What does the market object to? It's a long list.
First, the premium paid on Plains Exploration is 39%. Seems hefty for a stock that traded, according to Standard & Poor's, at a discount to its oil and gas peers because of a highly leveraged balance sheet.
True, production is increasing at the company's Eagle Ford and Haynesville operations. But Plains Exploration did just take on $8 billion in debt to fund the acquisition of deepwater assets in the Gulf of Mexico from BP (BP).
Second, why buy McMoRan Exploration at all? The company is a risky ultra deepwater driller in the Gulf of Mexico that has experienced problems with flow tests at its Davy Jones discovery. Revenue at the company has been in decline in recent quarters, and the company has struggled to prove its belief that the Davy Jones find could be one of the largest in the Gulf of Mexico in decades.
Third, the companies have just too many self-interested and overlapping insiders to convince anyone that this is an arms-length deal. Freeport spun off McMoRan Exploration 18 years ago, but the two companies share six board members, including:
Jim Bob Moffett, the chairman of Freeport, is also co-chairman and CEO of McMoRan Exploration.
B.M. Rankin, co-founder of McMoRan Exploration with Moffett, is vice chairman of both companies.
James Flores, CEO of Plains Exploration, sits on the board of McMoRan Exploration.
Whatever the plunge in Freeport McMoRan stock, these insiders stand to make a huge profit from the deal because they hold stock and options in McMoRan Exploration. For Moffett, for example, stock and options worth $44 million on November 4 soared to $89 million on the deal, according to Bloomberg.
Fourth, Freeport's explanation of the advantages of the deal in yesterday's conference call can be only called lame. In the call, Moffett couldn't offer synergies from combining a mining company and two oil and gas companies to justify the premium in the deal. His explanation in the call that money is cheap and that Freeport would be paying very little for the debt that it would use to finance the cash portion of the deal isn't a justification for doing this particular deal.
His explanation that US natural gas cheap right now—with its implication that Freeport will profit from a rise in natural gas prices—doesn't explain why the deal targets companies that are oil-heavy. After its purchase of assets from BP, 89% of production at Plains Exploration will be liquids rather than natural gas.
To get to its estimates for post-deal cash flows, Freeport assumes $100 a barrel crude and $4.50 natural gas. That's not impossible...but for natural gas, at least, it does verge on wishful thinking.
|pagebreak|
I can't remember the last conference call I've heard that was more hostile than this one. But I think Evy Hambro, manager of BlackRock's $12 billion World Mining Fund and owner of 8% of Freeport's stock, was totally on the mark in saying, "Congratulations on making one of the worst teleconferences I've ever heard to justify a deal. I haven't heard anything on this call that in any way justifies why these companies should be put together."
Fifth, the deal lessens one of the reasons that many investors—myself included—had for owning Freeport—that it was one of the biggest pure plays on copper. If you thought that a recovery in the US housing sector and an improvement in the economic growth rate in China would push up the price of copper, Freeport was your stock.
If I'd wanted to hedge Freeport with an investment in oil and natural gas, I would have bought shares in Ultra Petroleum (UPL) or Southwestern Energy (SWN) myself—without paying a 39% premium.
So, you've probably figured out I hate this deal. What am I going to do now?
The deal has inflicted serious damage on the stock. No doubt about it. Citigroup figures that the deal will dilute Freeport's 2013 earnings by 3.2%. I think the damage could be worse if Davy Jones doesn't work.
Standard & Poor's has cut its BBB rating on Freeport's debt to negative from stable on concerns about the extra debt that Freeport is taking on. The appearance of conflict of interest has already produced filings from law firms arguing that Freeport is underpaying for Plains Exploration and McMoRan Exploration (if only), and I think that's only the beginning of the legal hit parade.
I do think the drop of the last few days is overdone, but the worries about earnings, the credit rating cut, and the lawsuits could keep pressure on Freeport McMoRan shares for quite a while.
I think it is likely that shares will move up from the current $30.65, but I don't think you should be looking for a quick bounce back to the pre-deal $38 and change. The deal has destroyed too many investors' rationale for owning the stock, and those investors will be looking for an exit on any move up.
I think what you decide to do with Freeport McMoRan shares depends on how you rate the alternatives in the copper sector. A lot of Freeport money will be looking for another pure play on the metal. This money once preferred Freeport to alternatives such as Southern Copper (SCCO) or Cia de Minas Buenaventura (BVN) but I expect some of that money will re-evaluate that decision.
Both Southern Copper and Buenaventura are up today. But the copper company and stock that might get the most benefit from the Freeport debacle is Canada's First Quantum (FM in Toronto or FQVLF in New York.)
First Quantum has put in a bid for Inmet (INM in Toronto), the owner of the Cobre Panama copper deposit, the second largest undeveloped copper resource in the world. Inmet publicly rejected the offer of C70 a share in what has been widely seen as an effort to start an auction that would push the price higher.
At that time, speculation suggested that Freeport McMoRan would be a likely bidder against Inmet. Not anymore. Freeport's deal makes it more likely, although by no means certain, that Inmet will go to First Quantum. The price will almost certainly be above the C$70 offer but probably below the top of the C$80 to C$90 range suggested by mining analysts. (First Quantum has already raised its offer once.)
I'd suggest selling Freeport—whether today or after a bounce—and splitting the proceeds between Southern Copper or Buenaventura and First Quantum. If you still believe in the fundamental copper story, that is.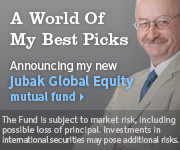 Full disclosure: I don't own shares of any of the companies mentioned in this post in my personal portfolio. The mutual fund I manage, Jubak Global Equity Fund, may or may not now own positions in any stock mentioned in this post. The fund did own shares of Freeport McMoRan and Ultra Petroleum as of the end of September. For a full list of the stocks in the fund as of the end of September, see the fund's portfolio here.