Which Abbott Shares Should You Keep?
01/04/2013 4:41 pm EST
Focus: STOCKS
For the time being, one of the two post-split companies has a far better likelihood of success than the other, writes MoneyShow's Jim Jubak, also of Jubak's Picks.
And then there were two. On January 1, Abbott Laboratories (ABT) split into two companies with two different stocks.
AbbVie (ABBV) is the drug company and owns Humira, a big selling injectable rheumatoid arthritis drug that produced $7.93 billion in sales in 2011. Abbott Laboratories is the medical device, diagnostics, and nutritionals company.
Do you want to hold both or sell one or the other?
In the near term-say the next two years, AbbVie has all the risk and Abbott Laboratories has all the growth. In Jubak's Picks, I'm going to sell my shares of AbbVie and use the proceeds to buy more shares of Abbott Laboratories to restore the pre-split position size in Abbott.
AbbVie CFO William Chase laid out the case for AbbVie in an interview with Bloomberg today. It's not an especially attractive story over the next two years.
Over those two years, Chase said, the company will be in what is basically a holding pattern, as AbbVie nets out increased revenue from Humira and Androgel with losses of about $2.5 billion in sales as drug patents expire.
The company's hope is that new products now in the pipeline will start to kick in around 2015 and put the company back on a growth track. Those products include the company's hepatitis C drug (which does not require interferon), a gel for Parkinson's, a multiple sclerosis drug, and a drug for endometriosis. The four, Chase projected, would produce $4 billion to $6 billion a year in peak sales.
And why would investors be willing to hang onto AbbVie shares until the pipeline produces? The company's shares now pay $1.60 in dividends, and the company intends to grow that dividend.
Contrast that high-risk growth strategy with the very clear growth trend in most of the four units-diagnostics, medical devices, generic drugs, and nutritionals-at the core of the post-split Abbott Laboratories.
Of these, the star is the nutrition business, which is projected to grow by a compounded annual 35% a year powered by the company's growth in China, India, and other developing economies. (The post-split Abbott Laboratories gets about 40% of its revenue from developing economies.)
Rising income levels are driving sales of infant and adult nutritionals in emerging markets, and Abbott has been increasing its penetration, especially in China, Southeast Asia, and Latin America through moves like the 2009 acquisition of the nutritional business of India's Wickhardt. Margins in this business are likely to increase as the company is able to spread the costs of growth over an increasing sales base.
Abbott's generic drug business is another unit taking advantage of faster growth in developing than developed economies. In 2010, Abbott acquired Solvay Pharmaceuticals, which brought the company a portfolio of branded generic drugs and expanded Abbott's presence in Eastern Europe, Russia, India, and Brazil.
This isn't to say that the post-split Abbott Laboratories doesn't have problems-especially in its medical device business. For example, Abbott's drug-eluting stents are a market leader, but sales have been under pressure and prices have been falling.
I think the problems in the division are certainly fixable through an acquisition or two, but the challenge will be buying the right technologies at the right price in a market where customers are under pressure to cut costs.
I still think that adding up the pluses and minuses comes out very strongly in favor of the post-split Abbott Laboratories, and I'll be adding to that position by selling my shares of AbbVie today.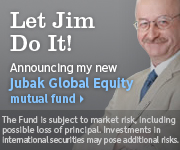 Full disclosure: I don't own shares of any of the companies mentioned in this post in my personal portfolio. The mutual fund I manage, Jubak Global Equity Fund, may or may not now own positions in any stock mentioned in this post. The fund did own shares of Banco Bilbao Vizcaya and Banco Santander as of the end of September. For a full list of the stocks in the fund as of the end of September, see the fund's portfolio here.