YUM! Chokes on Chicken & Guidance
01/10/2013 11:48 am EST
Focus: STOCKS
In what appears to be news after another, YUM! Brands seems to be stumbling quite a bit in China, and MoneyShow's Jim Jubak, also of Jubak's Picks, advises waiting to buy shares since it is likely to experience more downward pressure.
Yum! Brands (YUM) dropped the other drumstick on January 7.
An 8-K report filed with the Securities & Exchange Commission (SEC) on December 21 said that a December 17 Chinese TV story about high levels of antibiotics found in KFC chicken in China from two Chinese suppliers would have a moderate impact on sales in China. Moderate, the company told Wall Street analysts in guidance ahead of the company's February 4 earnings report, would amount to a 4% drop in same-store sales in China in the fourth quarter.
On Monday, the company filed another 8-K report that lowered guidance to a 6% drop in same-store sales in the quarter. That's a huge decrease in sales during the last two weeks of the quarter. Credit Suisse estimates that same-store sales must have showed a 15% to 20% decline in the last two weeks of the period to produce this large a shift for the quarter as a whole.
It's not clear to me that Wall Street earnings estimates have yet caught up to the shift. 60 days ago the consensus for 2012 earnings at Yum! Brands (YUM) was $3.27. Today it's $3.25. Estimates for the fourth quarter have dropped to 83 cents from 85 cents 60 days ago.
The shares did drop 4.2% the day following the news to close at $65.04, but that is still substantially above the $63.88 low on December 21 and only partially reverses the climb to $68.32 on January 4 from that post-guidance low.
I think we're likely to see more-if modest-downward pressure on the stock through earnings as investors fret about the very real possibility of an earnings miss or negative guidance for the first quarter of 2013. Or both.
I'd wait on these shares.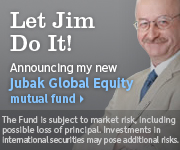 Full disclosure: I don't own shares of any of the companies mentioned in this post in my personal portfolio. The mutual fund I manage, Jubak Global Equity Fund, may or may not now own positions in any stock mentioned in this post. The fund did own shares of Banco Bilbao Vizcaya and Banco Santander as of the end of September. For a full list of the stocks in the fund as of the end of September, see the fund's portfolio here.