It's a Target Price for a Reason
02/07/2013 4:00 am EST
Focus: STOCKS
In this market, diligence to your instinct will save you far more often than it hurts you, writes MoneyShow's Jim Jubak, also of Jubak's Picks.
This is a tough one.
Nestle (NSRGY) has hit the $69 target price—and then a bit—I set when I added the shares to my Jubak's Picks portfolio on September 21 at $63.75.
The stock traded at $70.35 as of 1:45 p.m. New York time on February 6. That's a 1.03% gain on this position in a little less than five months.
In my January 25 post on trading strategies for a momentum market, I noted that it's important to keep notes in your trading diary on how aggressive you think your assumptions were when you set an initial target price for a stock. I used Nestle as an example.
My original assumptions, I felt then, were pretty aggressive back in September. That suggests to me that I shouldn't just go ahead and raise the target price just to keep this position. This says "sell" to me here.
The only caveat is that Nestle pays its 3% dividend just once a year, a few days after the annual meeting. In 2013, that meeting is scheduled for April 11. So selling now means you give up a year's dividend.
The decision on sell now or wait until April 15 comes down to how you read the risk in the current market. Frankly, Eurozone politics make me nervous right now—with Berlusconi closing the gap before Italian elections on February 24 and 25, and a slush-fund scandal in Spain moving to the courts and a special prosecutor.
(The "optimists" on Spanish markets say that since the Spanish courts operate at glacial speed, the move to the courts is actually a positive development. Although I respect that judgment, I find it slight support for Spain's markets.)
My call is to sell Nestle now and take my profit, so I'm selling the shares out of Jubak's Picks today. If your read on European markets is more positive than mine, you're likely to decide to hold on for the dividend.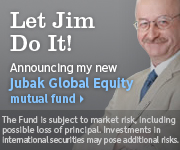 Full disclosure: I don't own shares of any of the companies mentioned in this post in my personal portfolio. The mutual fund I manage, Jubak Global Equity Fund, may or may not now own positions in any stock mentioned in this post. The fund did not own shares of Nestle as of the end of September. For a full list of the stocks in the fund as of the end of September, see the fund's portfolio here.