Is Cummins Running Out of Gas?
02/12/2013 4:00 am EST
Focus: STOCKS
The company continues to have a lot going for it, but the upside after three strong years may be growing a wee bit thin, writes MoneyShow's Jim Jubak, also of Jubak's Picks.
Wall Street analysts have decided that Cummins (CMI) is low-balling them on 2013 guidance.
And who can blame them really? On February 6, Cummins announced fourth-quarter earnings of $2 a share, a full 25 cents a share above Wall Street projections.
Revenue did fall 12.8% from the fourth quarter of 2011. But the company has shown an amazing ability to conjure earnings growth out of tepid (or indeed falling) revenue on cost cutting and efficiency improvements.
So when Cummins followed up its big positive surprise with guidance calling for revenue to be flat to down for the full 2013 year, Wall Street basically said, "Oh, it's just Cummins being conservative again."
The post-earnings report from UBS was typical. The investment bank raised its target to $135 from $110 on the strength of Cummins' long-term growth story and the company's exposure to growth in sales of new truck and farm-equipment engines, as the world imposes stricter global emissions standards. It's not that UBS doesn't see the decline in first half sales and earnings growth that Cummins told Wall Street to expect, it's just that the investment bank was willing to look past it.
Listening to Cummins' conference call, though, it's very clear that the company does indeed expect the first half of 2013 to be as challenging as the second half of 2012. "After a strong start to the year, demand declined across most geographies and end markets in the second half of 2012 as the global economy slowed," the company said.
And, while the company expects a recovery in the global economy in the second half of 2013, it highlighted the uncertainty of the timing and pace of the improvement. In its admirably understated way, Cummins tried to tell Wall Street that while it was pleased that it managed to improve gross margins in the fourth quarter and to deliver record gross margins for the year despite weak demand, the company can't promise that it will continue to be able to pull rabbits out of its hat.
In the fourth quarter, strong demand for bus and light-duty truck engines in North America was offset by weak sales in Brazil, by weak sales in the North American heavy-duty truck market, and by weakness in global construction and North American oil and gas and mining markets.
Which sets up a quandary for me. Cummins is one of the longest picks in my Jubak's Picks portfolio, dating back to May 5, 2010. And it's done very well by me in that time, with a gain of almost 71% as of the close on February 8.
But if I take the company's guidance and the tone of its remarks seriously, then I have to say that the risk in the stock is rising and will be relatively high in the first half of 2013. I think you can even see that in the reports of optimistic Wall Street analysts. For example, UBS did raise its 12-month target to $135, but that would be only a 13% gain from the $119.47 closing price on February 8.
The stock is within spitting distance of my July 2013 target of $120 a share. And given the company's take on the first half of 2013, I can't see a way to increase my target price to a level that compensates me for the risk I see in the stock in the uncertain economy of 2013.
The stock doesn't seem terribly expensive at a price to earnings ratio of 13.6 times projected 2013 earnings—until you realize that Wall Street is forecasting almost no growth for Cummins (just 3.1%) in 2013. Even if I could jump in with the optimists that calculate a 12-month target price of $135, I still don't find myself salivating at the prospects of a 13% 12-month gain.
I certainly understand if you don't want to sell these shares—Cummins is a superbly run company with technology that is ahead of its competitors, and it makes the investments in research and development to keep that lead.
But I'd either like to see less risk in the stock—such as the greater certainty of improved conditions in the second half of 2013 that would come from being in the second half of 2013—or more upside to the optimistic target of $135. A 25% potential gain to that price would require a current price of $108, rather than $119.47.
I'm selling these shares out of Jubak's Picks today with the idea of picking them up later in the year, or at a lower price of $108 or less.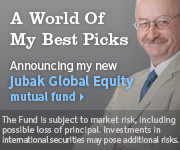 Full disclosure: I don't own shares of any of the companies mentioned in this post in my personal portfolio. All my personal portfolio is invested in the mutual fund I manage, Jubak Global Equity Fund. That fund may or may not now own positions in any stock mentioned in this post. For a full list of the stocks in the fund as of the end of September, see the fund's portfolio here.