Don't Test This Drugmaker
04/04/2013 10:19 am EST
Focus: STOCKS
It's time to sell this high-flying pharma and look for a better value proposition, writes MoneyShow's Jim Jubak, also of Jubak's Picks.
Novartis (NVS) has hit my $71 target price. And I was fairly aggressive when I set that target price.
The drugmaker does have one of the sector's most promising pipelines of new drugs. But a leading seller, Diovan (10% of sales), lost patent protection at the end of 2012, and Gleevec is scheduled to lose patent protection in 2015. (The recent decision by an Indian court to deny Novartis patent protection in India for Gleevec is a non-issue as far as the share price is concerned, in my opinion.)
Given the extended nature of the current market rally, I think its risky to push my target for Novartis higher. I don't this is the time to add risk to a portfolio.
What I'd prefer to do is sell this stock at my target price and look for a stock in the sector where the risk has come down after recent news. I've got one in mind, and I'll be looking to add it after the volatility of the next few days—meetings of the Bank of Japan and the European Central Bank, and Friday's numbers on US jobs—has receded.
I'm selling Novartis with a 14.7% gain since I added it to my Jubak's Picks portfolio on December 7. The shares paid out a dividend on March 1 to shareholders of record as of February 25.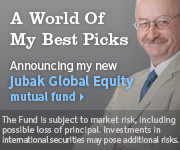 Full disclosure: I don't own shares of any of the companies mentioned in this post in my personal portfolio. When in 2010 I started the mutual fund I manage, Jubak Global Equity Fund, I liquidated all my individual stock holdings and put the money into the fund. The fund may or may not now own positions in any stock mentioned in this post. The fund did not own shares of Novartis as of the end of December. For a full list of the stocks in the fund as of the end of December, see the fund's portfolio here.