Yamana: A Lesson for Gold Investors
05/02/2013 5:00 am EST
Focus: STOCKS
Despite doing a lot of things right, the company missed estimates and the stock tanked yesterday. MoneyShow's Jim Jubak, also of Jubak's Picks, explains what investors need to look for to find value in gold mining stocks at this stage.
Yamana Gold (AUY) was hit hard yesterday after the company announced first-quarter earnings of 16 cents a share—3 cents a share below the Wall Street consensus—and revenue of $535 million, a 4.4% drop year over year and short of the $559 million consensus.
Worst, though, is a huge increase in cash costs of 31% year-to-year, due in good part to falling prices for the copper that Yamana produces as a "byproduct" of its gold mining activity.
Shares closed down 5.8% today on the news. (Yamana Gold is member of my Jubak's Picks portfolio.)
I'm not suggesting that you rush out to buy Yamana today. It remains hard to call the trend in gold prices, and I doubt that we've seen a bottom. And it's even more difficult to pick a bottom for the shares of gold mining companies. These stocks are caught in a vice of lower gold and copper prices and rising production costs.
I think the price of $11.39 on Yamana Gold is a reasonable price for adding to positions, but I certainly would leave myself some room in any portfolio allocation to Yamana in case gold goes lower. Adding pluses and minus, I guess that makes me neutral on buying the stock here.
One thing I'd like to see is the near-term results of Yamana's efforts to cut production costs by $100 an ounce by mid-2013 and $150 an ounce by the end of the year. If I saw signs of success in that endeavor, I'd go from neutral to buy.
But of equal—and perhaps greater—importance than buy/sell/hold on Yamana as an individual stock is the way that Yamana's current results set a benchmark for judging the gold mining sector.
In this tough environment for gold mining companies, I'd like any stock that I owned in the sector to meet what I'd call the Yamana benchmarks. What are those?
Relatively low costs. The all-in cost of $856 per ounce of gold gives Yamana a solid profit margin even at current gold prices. The byproduct cash cost is a low $383 an ounce.
Relatively low near-term capital spending plans, and aggressive plans to study new spending in light of conditions in the market. The company announced plans today to evaluate its new Cerro Moro mine in Argentina and expansions at its Chapada mine.
Increasing production even with capital spending restraints. Gold production in the first quarter was up 4% year over year. For 2013, Yamana projects production of 1.4 million ounces of gold, up from the record 1.2 million ounces produced in 2012.
Solid positive cash flow, so that the company won't have to raise capital in 2013, or run the danger of making Wall Street nervous about any covenants on existing debt. First-quarter cash flow for Yamana came to $214 million, or 29 cents a share.
Enough high-yield reserves that the company can prioritize mining these higher margin deposits while going slow on reserves of lower ore grades—without jeopardizing production growth. Yamana looks to be able to do that at its Jacobina, Morro do Vento, and Canavieiras mines.
I'm not arguing that Yamana should be the only gold mining stock you own. Diversification in the sector remains important. But I do think investors should measure their gold holdings against this stock.
If one falls markedly short, you do need to ask yourself why you own it, and if there might be better candidates (even better candidates than Yamana) out there.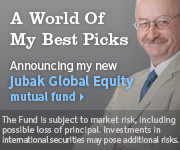 Full disclosure: I don't own shares of any of the companies mentioned in this post in my personal portfolio. When in 2010 I started the mutual fund I manage, Jubak Global Equity Fund, I liquidated all my individual stock holdings and put the money into the fund. The fund did own shares in Yamana as of the end of March. For a full list of the stocks in the fund as of the end of March, see the fund's portfolio here.