Who's Placing Options Straddles on Wells Fargo (WFC)?
09/28/2009 10:47 am EST
Focus: OPTIONS
Wells Fargo & Company (WFC) was the target of a straddle strategy last Thursday. Shortly after the open, two blocks of 1,035 contracts apiece changed hands on WFC's October 29 call and October 29 put. Each transaction occurred at the respective ask price, suggesting these contracts were all bought to open.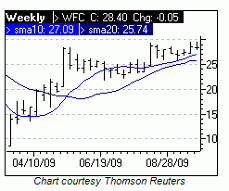 In a long straddle, the speculator buys to open an equal number of at-the-money calls and puts with the same strike price and the same expiration date. This strategy is employed when the trader is expecting major movement out of the underlying stock, but is not sure which direction the shares are headed.
In this case, it's likely that the trader is expecting a dramatic post-earnings reaction from WFC. The banking issue is tentatively scheduled to release its third-quarter results on October 16, the same day October-dated options expire.
While Wells Fargo hasn't yet confirmed its upcoming date in the earnings spotlight, traders are already pricing in heightened expectations for volatility in the front-month series. Implied volatility on the stock's October 29 call and put weighs in at 44% and 45%, respectively, compared to the equity's one-month historical volatility of about 34%.
From a technical perspective, double-barreled trend line support remains firmly in place for WFC. The stock has climbed along its ten- and 20-week moving averages since late March.
By Elizabeth Harrow of Schaeffer's Trading Floor Blog