Option Spread Traders Setting Positions on HL
11/30/2009 10:05 am EST
Focus: OPTIONS
Hecla Mining Company (HL) was the target of notable call volume last week. During the course of the mid-week session, traders on the International Securities Exchange (ISE) bought to open 5,050 calls on HL, compared to just 557 puts. In other words, option players purchased an average of 9.07 calls for every put on the commodity concern.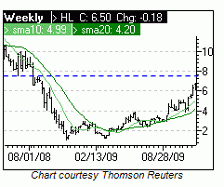 Most of the day's volume was focused on HL's December 9 and December 7.50 call strikes, with 3,415 contracts crossing the tape at the former and 3,285 contracts changing hands on the latter. However, the option activity wasn't necessarily bullish in nature. It appears that some of the trades at these two strikes were linked with a short call spread.
Shortly before noon on Wednesday, a block of 389 December 9 calls traded near the ask price at $0.04, while a symmetrical block of December 7.50 calls traded near the bid price at $0.21. By selling the lower-strike calls and purchasing the higher-strike calls, the trader is making a hedged bet that HL will remain below $7.50 through December expiration.
If history is any guide, the $7.50 neighborhood could very well act as a technical ceiling for HL going forward. This area briefly acted as support in June 2008, before switching roles to cap the stock's progress during the next three months. Plus, HL has rallied well beyond support from its rising ten- and 20-week moving averages, leaving plenty of room for a potential pullback.
By Elizabeth Harrow of Schaeffer's Trading Floor Blog