Call Buyers Fly into Airlines
12/14/2009 11:21 am EST
Focus: OPTIONS
Delta Air Lines, Inc. (DAL) has seen seven times its usual call volume today, with about 36,000 of these optimistically-oriented contracts crossing the tape.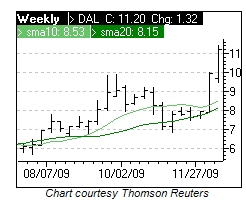 The most popular strike is DAL's March 2010 13 call, where 8,739 contracts have changed hands. Nearly all of these out-of-the-money calls have traded near the ask price, suggesting they were purchased. With only 361 contracts in open interest at this strike, it seems highly likely that new bullish bets are being added here today.
Today's upbeat option activity is a deviation from the norm for DAL. The stock's Schaeffer's put/call open interest ratio (SOIR) stands at 0.85, in the 94th annual percentile—just six percentage points from an annual bearish peak. However, there are signs that sentiment is shifting.
Along with today's spike in call volume, it's worth noting that short interest on DAL dropped by 23.3% during the past month. With 3.1% of the stock's float still sold short, this stockpile of sideline cash could unwind to fuel additional gains.
At last check, DAL was up 13.3% to trade north of $11 per share. If the stock can maintain its momentum through today's close, it will mark the airline issue's first weekly finish in double-digit territory since late January.
Amid a sector-wide rally, DAL isn't the only airline issue attracting bullish option volume today.
Call volume has also been unusually heavy lately on AMR Corporation (AMR). During the course of Thursday's trading, speculators on the International Securities Exchange (ISE) bought to open 4,312 calls on AMR, compared to 195 puts. In other words, traders snapped up 22.11 times more calls than puts.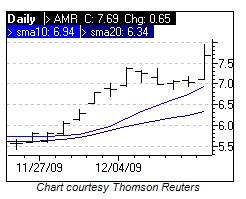 The trend toward bullish bets is continuing, with call volume on the airline issue rising to three times the usual level. Most active is AMR's January 2010 7.50 call, where 15,639 contracts have crossed the tape on open interest of 37,749 contracts.
It appears that most of these at-the-money calls have been purchased, with 63% of the volume at the January 7.50 call trading near the ask price. Implied volatility on this option is up 7.6% as a result.
Calls have become increasingly popular on AMR of late, with the stock boasting a ten-day ISE call/put volume ratio of 6.01. This ratio ranks higher than 78% of other such readings taken during the past year, suggesting that traders have rarely purchased calls over puts at a faster pace.
This most recent flood of call buying coincides with a sharp rally in the shares, which are up 8.8% at last check. As a result, AMR has gapped above short-term support at its ten-day moving average.
It's likely that short sellers are contributing to these gains, with short interest accounting for 10.9% of the stock's float. In fact, shorts could also be driving some of the recent call volume on AMR, as traders seek to hedge their bearish stock positions against a continued climb.
By Elizabeth Harrow of Schaeffer's Trading Floor Blog