CBOE Market Volatility: What Does It Mean?
05/26/2010 12:01 am EST
Focus: STRATEGIES
With the VIX flashing in the high 30's and the smell of fear/panic everywhere, wouldn't you think we would see some big drop days? Oh sure, last week we had one—on Thursday, the SPX dropped 45 points, or nearly 4%. But that was eight days after a 49-point move up.
Does the elevated VIX mean we go down big? Well, yes and no. Actually, the higher volatility only means we should expect wide moves, but generally, these are associated with fear, protection, and not outright buying.
Historically—and recent history is a guide—we have seen big blowouts of volatility, but they don't last too long. Fear and panic are short-term in nature and will generally reverse when it hits a crescendo. So far though, markets have been selling off rather orderly.
For now, that is the case. I call your attention about similarities in the VIX chart between September 2008 and now; eerily similar (see below). Do you see it?

Click to Enlarge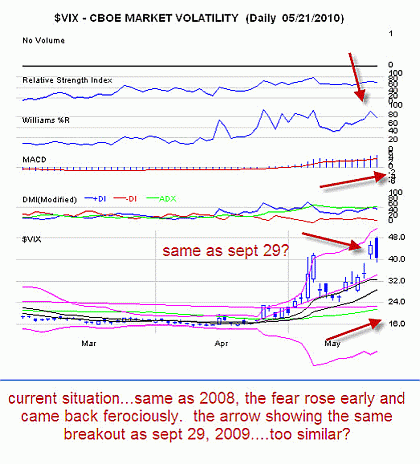 Click to Enlarge
By Bob Lang of BigTrends.com