How to Trade a Bearish Option Strategy
06/18/2010 12:01 am EST
Focus: OPTIONS
The shares of semiconductor maker Advanced Micro Devices Inc. (AMD) have fallen upon hard times in 2010, with the shares down more than 8% since the start of the year. Proving that there is no rest for the weary, the stock has recently engaged in a losing battle with its declining 200-week moving average. This long-term trend line has capped all of AMD's rally attempts since mid April, forcing the stock to retreat from the round-number $10 level.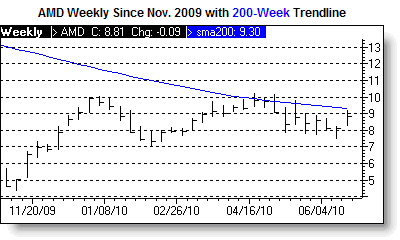 Click to Enlarge
At least one trader in the options pits is looking to capitalize on this technical weakness. At about 9:50 am ET, a block of 5,000 AMD July 10 puts traded on the Chicago Board Options Exchange (CBOE) for the ask price of $1.28, or $128 per contract. Simultaneously, a block of 5,000 July 8 puts crossed at the bid price of $0.21, or $21 per contract. Given this data, it appears that the trader entered a bearish debit spread position on AMD.
The total debit incurred for this trade amounts to $1.07, or $107 per contract. The maximum profit is reached when AMD pulls back to $8 per share, with breakeven resting at $8.93. With the stock currently resting at $8.80 per share, it appears that the trader is already sitting on a minor profit.
By Joseph Hargett, contributor, Schaeffer's Trading Floor Blog