Option Trading Surges on This Drug Maker
11/08/2010 12:04 pm EST
Focus: OPTIONS
Option volume surged to roughly four times the norm last Friday on Human Genome Sciences (HGSI), with approximately 29,000 calls and 22,000 puts changing hands so far. By contrast, HGSI's average daily option volume amounts to just 6,699 calls and 4,967 puts.
Taking a closer look at the day's activity, HGSI's November 24 put was the most active, with 10,750 contracts crossing the tape. A block of 7,400 contracts traded at the ask price earlier, suggesting that the majority of these out-of-the-money puts were purchased.
Meanwhile, one speculator initiated a long call spread by purchasing 4,900 December 26 calls and simultaneously selling 4,900 December 32 calls. The best-case scenario for this long call spread would be for HGSI to finish right at $32 upon December expiration—well north of the equity's current perch around $25.27.
Speculation on the stock is ramping up ahead of some planned regulatory actions on HGSI's experimental lupus drug, Benlysta. The Food and Drug Administration (FDA) is expected to release its preliminary review of the drug next week, with a panel slated to meet on November 16 to weigh in on the drug's prospects.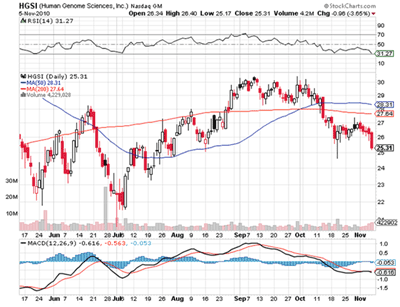 Click to Enlarge
On the charts, HGSI is off nearly 4% at last check. Since October 6, the stock has slumped consistently lower beneath pressure from its ten- and 20-day moving averages.
By Elizabeth Harrow, contributor, Schaeffer's Trading Floor Blog