Find Profits with GPS Maker Garmin
12/23/2010 12:01 am EST
Focus: OPTIONS
There will be lots of GPS units under the trees on Christmas morning. Here's how to pay for a few of those great electronics by trading options on one of the leading GPS manufacturers.
Put option trading activity in Garmin Ltd. (GRMN) has popped mid-week with 7,271 of these bearishly-oriented options crossing the tape on Tuesday morning alone—about six times the stock's expected daily put volume. Checking out the day's major block trades, it looks like one option spread speculator is expecting GRMN to slide during the next couple of months.
Specifically, the trader initiated a long put spread on GRMN by purchasing roughly 2,600 February 31 puts, and simultaneously selling 2,600 February 27 puts. The ultimate goal of this debit spread is for GRMN to decline from its current perch just north of $31.
However, if GRMN falls too far below the sold strike, the trader will suffer an opportunity loss on the play. That's because the profit potential on the spread is limited to the difference between the two strike prices less the initial net debit.
So, in the best-case scenario, GRMN would settle squarely at $27 upon February expiration. This would reap the maximum potential profit on the purchased February 31 puts, while the sold February 27 puts could be left to expire worthless.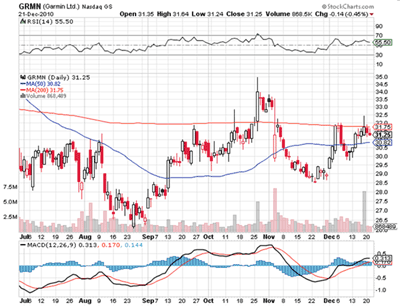 Click to Enlarge
The stock is struggling against resistance in the $32 neighborhood, which is home to its 200-day moving average.
By Elizabeth Harrow, contributor, Schaeffer's Trading Floor Blog