Traders Run to RadioShack
02/21/2011 1:06 pm EST
Focus: OPTIONS
Call volume exploded on the big-name electronics retailer, but are traders banking on a pleasant earnings surprise or hedging short positions?
Options traders gravitated toward RadioShack Corporation (RSH) last week, with overall volume rising to three times the expected level. By mid-morning on Friday alone, 8,200 calls and 2,557 puts had changed hands on the electronics retailer.
The center of attention is RSH's March 16 call, where 3,518 contracts crossed the tape. Volume at this strike is outstripped open interest of 3,072 contracts, indicating that new positions are being added here today.
RSH is hovering around the breakeven line at last check, with the shares ending Friday trading at $15.70. In other words, those March 16 calls are out of the money by just fractions of a point.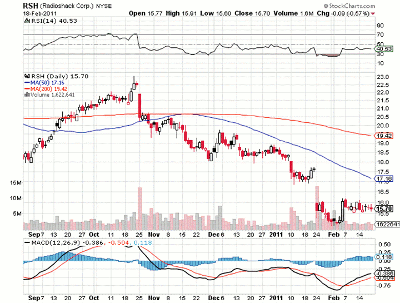 Click to Enlarge
Friday's trend toward calls precedes RSH's upcoming turn in the earnings spotlight, with the company slated to confess its fourth-quarter results after the close tomorrow (Tuesday, Feb. 22). "The Shack" has topped Wall Street's consensus profit predictions in each of the past four quarters, so call buyers may be banking on another upside surprise.
But, with nearly 11% of RSH's float sold short, it's entirely possible that bears are buying calls to limit their upside risk ahead of earnings. Checking out the charts, it's easy to see why so many shorts are betting against the shares: RSH is pinned below resistance at the $16 level and its 32-day moving average and is well below its 50- and 200-day moving averages.
By Elizabeth Harrow, contributor, Schaeffer's Trading Floor Blog