Unlock the Power of the "Magic Triangle"
03/07/2011 10:45 am EST
Focus: OPTIONS
Risk graphs can tell a powerful story, and here, the charts show clearly defined advantages of specific option strategies over long stock ownership.
By Tyler Craig
They say a picture is worth a thousand words. I say a risk graph could perhaps be worth even more. The amount of knowledge that can be captured by even a brief study of this option tool is vast and deep. To the novice option trader, the initial encounter with a risk graph can lead to many revelations and "Aha"-type moments.
Much of what I say about an option strategy can be seen within these indispensable graphs. They quickly display the potential risk and reward, as well as relevant breakeven points. They can also illustrate the key advantages to specific option strategies.
Take the alluring covered call, for example. Boasting the dual advantage of monthly income and downside protection, it's one of the most popular plays in the options arena. Over time, it also dampens the volatility of a portfolio's profit and loss (P & L).
When comparing the graph of a stock position to that of a covered call, the advantages of the latter are easily seen by what I call the "magic triangle." Consider first the risk graph of a long stock position, a straight diagonal line running from bottom left to top right with a breakeven point resting at the stock's current price.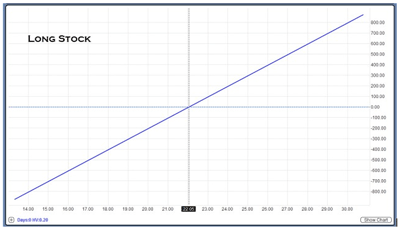 Click to Enlarge
How might the risk graph shift if we sold an at-the-money covered call? How can I see the aforementioned advantages of monthly income and downside protection?

Click to Enlarge
Notice how the expiration risk graph shifts to the left and upwards to reveal a triangle. The extent of the shift comes down to the amount of premium received by the sale of the call option. The higher the premium, the more shift occurs. By selling a covered call, traders unlock this triangle and gain access to its goodies.
As an aside, the triangle is best seen when using at-the-money call options. When selling in- or out-of-the-money covered calls, the risk graph will appear mildly different.
By Tyler Craig