Bear Call Spread Example in Pfizer
03/16/2011 5:01 am EST
Focus: OPTIONS
When big news broke about the pharma giant this week, option traders sprung into action. See how one trader in particular chose to act on his/her idea by constructing a bear call spread.
By Andrea Kramer
Option traders flocked to Pfizer Inc. (PFE) earlier this week after Sanford C. Bernstein analyst Tim Anderson speculated that the drug maker could reduce its revenue base by as much as 40%, should the company spin off various units-including its consumer health and generic drug businesses-over the next couple years.
As a result, shares of PFE touched a new high of $20.26, as "Investors are desperate to see pharmaceutical companies take bold steps...to try and break the cycle of underperformance," Anderson said.
While Pfizer spokeswoman Joan Campion declined to comment on the analyst's predictions, she added fuel to the spinoff fire with this statement, issued today: "As we previously stated on Feb. 1, we're conducting a portfolio review in 2011, and the review encompasses all of our businesses."
Around midday on Monday (Mar. 14), PFE had seen roughly 156,000 calls and 52,000 puts change hands, compared to its predicted single-session volume of about 43,000 calls and 16,000 puts. Most notably, the stock's near-the-money March 20 call saw more than 45,500 contracts cross the tape. However, the 20 strike was already home to peak call open interest of more than 100,000 contracts, making it difficult to discern how much of the action will translated into new positions.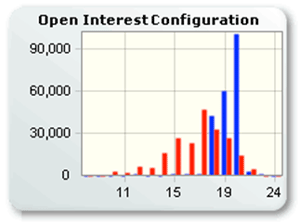 Click to Enlarge
Elsewhere, longer-term speculators are employing calls to bet bearishly on the Dow component. On Monday, a trader sold 2,000 May 20 calls for the bid price of $0.82 apiece. Then, to hedge his/her bets in the event of an extended rally, the investor simultaneously bought an equal amount of May 21 calls for the ask price of $0.42 each.
Below is a graphical representation of the profit and loss possibilities on such a position.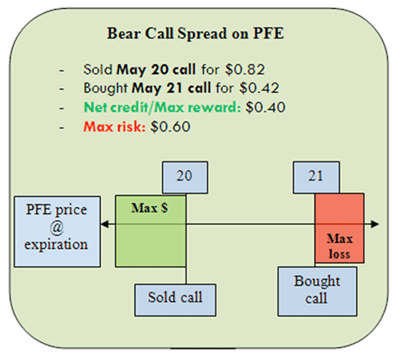 Click to Enlarge
In other words, the speculator constructed a bear call spread for a net credit of $0.40 per pair of calls, which he gets to keep as long as PFE finishes south of $20 when May-dated options expire.
It's a good example of just one way to play a trading idea with options.
By Andrea Kramer, contributor, Schaeffer's Trading Floor Blog