Will This Pattern Complete on INFY?
05/06/2011 7:00 am EST
Focus: OPTIONS
A head-and-shoulders pattern has developed on the charts for a well-known tech stock, and option traders can consider buying puts to capitalize—if the pattern plays out, that is.
Infosys Technologies (INFY) has developed a clear head-and-shoulders pattern over the past few months, which includes a downside gap as part of the right shoulder.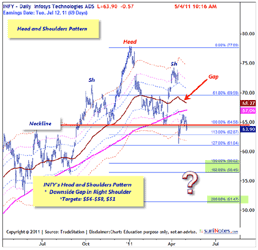 Click to Enlarge
Two targets present themselves when a Fibonacci retracement is overlaid on the chart.
In the $56-$58 range, we can see the 150% and 162% retracements. The next level of support resides around $51, which is the area of the 200% retracement, as well as a previous low hit back in June 2010.
The neckline of this head-and-shoulders pattern coincides nicely with the 100% Fib retracement area as well.
Use caution, as I've seen many head-and-shoulders patterns fail in this market, and buyers seem to jump in just as a stock appears ready to break the neckline and head lower. Consistent daily closes below the neckline accompanied by decreasing volume would be a good sign that the pattern will complete.
An option trader could play this by purchasing June 60 puts, which have a good amount of open interest. This would allow INFY enough time to either complete or fail in the pattern before expiration, however, time decay may eat into profits.
By Suri Dudella of SuriNotes.com
Suri Dudella will be speaking at the upcoming Traders Expo Dallas