Options Traders Using Puts to Play VMW
05/11/2011 5:00 am EST
Focus: OPTIONS
Because this high-performance technology stock is treading water under resistance, some traders may be "getting paid to wait" for a correction by buying put options at their desired entry point.
VMware, Inc. (VMW) has put in a stellar performance during the past 52 weeks, with the stock gaining nearly 65% over this timeframe. However, the equity's year-to-date advance stands at a relatively modest 4.6%, as resistance in the $95 to $100 region has stalled several of VMW's rally attempts in 2011.

Click to Enlarge
With VMW treading water just beneath this technical ceiling, bullish call positions have fallen out of favor. During the past ten days, speculators on the International Securities Exchange (ISE), Chicago Board Options Exchange (CBOE), and NASDAQ OMX PHLX (PHLX) have bought to open 1.81 calls for every put on the stock. This ratio ranks in the tepid 39th annual percentile, suggesting that traders have shown a greater appetite for calls relative to puts about 61% of the time during the past year.
However, VMW's fan club hasn't fled the options pits entirely. Instead, it seems that traders are taking a less aggressively optimistic route by selling put options on the virtualization concern, rather than buying calls.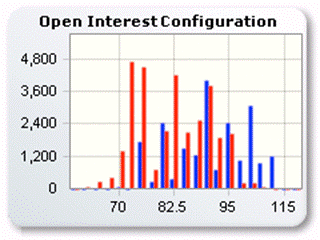 Specifically, traders on the ISE, CBOE, and PHLX have sold to open 5,758 puts on VMW during the past ten sessions, compared to just 2,760 puts that were bought to open. In other words, traders sold to open 2.09 times more puts than they purchased during the past couple of weeks.
By selling to open puts on VMW, speculators are most likely banking on the stock to remain at or above the sold strike through expiration. If this forecast comes to fruition, option writers may retain the initial net credit as their maximum potential profit on the play.
This certainly seems to be the case for traders who sold puts at VMW's May 75 strike, which is nearly 20 points out of the money. This strike carries 4,492 contracts in residence, the majority of which were sold to open. Barring a major price plunge, it seems likely these puts will expire worthless at the end of next week's trading.
However, it's worth noting that there could be an alternate motive for writing puts on VMW. Given the equity's impressive rise during the past year, it's quite likely that there are a few sidelined investors looking to participate in the rally. For those traders looking to buy VMW on a dip, selling puts is a convenient way to "get paid to wait" to purchase the shares at the desired entry point.
It works like this: If you'd like to buy $100 shares of VMW, but would like to wait for a pullback to $90, you could simply sell to open one May 90 put contract. You would receive an initial net credit upfront for the transaction. Then, there are two potential outcomes for the trade. If VMW fails to drop below the strike prior to expiration, you can retain that entire initial credit as a consolation prize.
On the other hand, if the shares pull back below $90, you'll likely be assigned. This means you'll be on the hook to buy 100 shares of VMW at your preferred entry price. In this case, you can consider that option premium to be a "coupon," effectively offsetting a portion of your cost of entry on the long stock position.
In fact, we could be seeing this tactic at work in the front-month series. VMW's May 90 strike carries 3,790 contracts in residence, the majority of which appear to have been sold to open.
Taking a closer look at the stock's price action, VMW is sandwiched between support at its rising 20-day moving average, and resistance in the aforementioned $95 to $100 neighborhood. The shares staged a bullish gap north of $90 in late April, so this area could act as an additional layer of support during the short term―suggesting those out-of-the-money May 90 puts just may expire worthless, after all.
That being said, potential premium sellers should beware of relatively cheap option prices. VMW's Schaeffer's Volatility Index (SVI) is docked at 29%, just a stone's throw from its annual low of 28%. In other words, option writers aren't getting much bang for their buck at the moment.
Elizabeth Harrow is a contributor to Schaeffer's Trading Floor Blog.
By Elizabeth Harrow