Bulls Running for Check Point (CHKP)
05/20/2011 5:00 am EST
Focus: OPTIONS
Option traders have seldom been more bullish on Check Point Software Technologies (CHKP), and as a result, this week has seen a heavy dose of in-the-money call buying on the equity.
Options speculators set their sights on Check Point Software Technologies (CHKP) this week, as call volume jumped to five times the expected daily activity, with 7,704 contracts crossing the tape during Tuesday's session alone.
Here is a recent daily chart: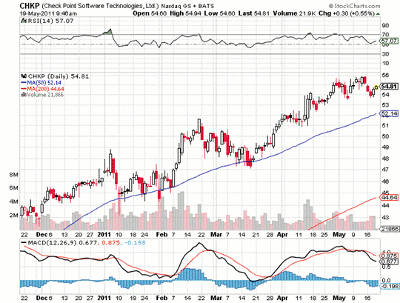 Click to Enlarge
Traders on the International Securities Exchange (ISE) bought to open 1,651 calls as compared to just three puts, making for a single-day ISE call/put volume ratio of 550.33.
The most active option this week is the soon-to-expire, in-the-money May 50 call, which saw 2,712 contracts cross the tape. Open interest on this strike decreased overnight by 2,655 contracts, indicating some traders may have closed out their positions and taken profits prior to expiration.
Traders also took an interest in the in-the-money July 52.50 call, which saw 2,703 contracts cross the tape on Tuesday alone. Open interest on this strike grew by 2,681 contracts mid-week, suggesting new positions were being added.
From a broader perspective, this call buying appears to be part of a broader trend on the software security concern.
On the ISE, Chicago Board Options Exchange (CBOE), and Nasdaq OMX PHLX (PHLX), the stock has garnered a ten-day call/put volume ratio of 48.63. That reading falls in the 96th percentile of its annual range, meaning traders have been buying calls on CHKP at a near-annual-high rate in recent weeks.
This optimistic outlook on the equity is echoed by CHKP's Schaeffer's put/call open interest ratio (SOIR) of 0.38. This ratio ranks lower than every other such reading taken during the past year, meaning near-term options traders are more bullishly aligned toward CHKP now than at any other time during the previous 52 weeks.
Short interest on the stock increased by 47.1% during the past month and now accounts for 2.4% of the stock's float. Burgeoning short interest coupled with increased call buying is often an indicator of hedging activity by pessimistic traders, but the general lack of interest in CHKP's out-of-the-money calls suggests this isn't necessarily the case.
Technically speaking, CHKP has been a strong performer, gaining 67.7% during the past 52 weeks. The stock hit a multi-year high of $55.91 last Thursday, and it has been ushered higher atop its ten- and 20-week moving averages.
By Andrea Kramer, contributor, Schaeffer's Trading Floor Blog