Trade Review: Bull Put Spread on Nike
09/15/2011 7:00 am EST
Focus: OPTIONS
An option trader recently used an unconventional method to bet on a short-term recovery for Nike, Inc. (NKE), executing this bull put spread to play the long side while still limiting risk in case of further declines.
Athletic apparel concern Nike, Inc. (NKE) was smacked with a negative analyst note last week after HSBC downgraded the equity to "neutral" from "overweight." What's more, NKE has been exceptionally popular among put players this week, with intraday volume already exceeding the stock's daily average.
However, digging deeper into the data, it appears one options speculator is employing these typically bearish bets to gamble on a short-term recovery for the stock.
Here's a recent daily chart:

Click to Enlarge
Jumping right in, NKE option traders bought and sold 6,600 puts within the first few hours of the announcement, compared to its average single-session volume of fewer than 4,350 puts. Most notably, the majority of the action has centered on the September 80 and September 85 strikes, where the aforementioned strategist initiated a bull put spread on the security.
Specifically, several hundred September 80 puts crossed the tape for the ask price of $1.84, suggesting they were bought. At the same time, symmetrical blocks of September 85 puts traded for the bid price of $4.26, implying they were likely sold. Meanwhile, implied volatility was last seen about seven percentage points higher at both strikes, hinting at newly opened positions.
By writing the 85-strike puts to open, the trader is hoping the shares of NKE climb back atop the $85 level by the time front-month options expire. However, to hedge their bets, the investor bought the 80-strike puts.
As such, the strategist reduced his maximum reward (the net credit) to $2.42 per pair of puts, but trimmed his maximum risk to $2.58 (difference between strikes minus net credit) should NKE backpedal beneath the $80 level.
Graphically, here is how the bull put spread strategy appears: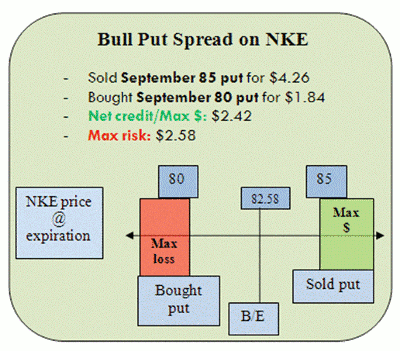 Click to Enlarge
This trade looks like a winner, as the stock has already crossed above $86, and technically speaking, a longer-term rebound doesn't seem outside the realm of possibility for NKE. The shares have tacked on more than 13% during the past 52 weeks and have more than doubled since skimming the $40 region in March 2009.
Guiding the stock into the black have been its ten- and 20-month moving averages, a duo that hasn't been breached on a monthly closing basis in more than two years.
NKE now sits right at its 50-day moving average. A break above that shows open road up to resistance around $94, which was a recent high.
By Andrea Kramer, contributor, Schaeffer's Trading Floor Blog