Grab Gold Profits on This Option Trade
11/14/2011 10:05 am EST
Focus: OPTIONS
Technical buy signals are appearing on the charts for gold futures, and traders now have two ways to capitalize on the potential for price appreciation using options.
In my view, COMEX gold futures could be reaching a critical support area on a daily chart.
Fundamentally,I believe COMEX/Globex futures have had a tough time getting through the $1800/ounce area due to that number being a potential "psychological" area of resistance. However, in my opinion, this is a buying opportunity, although not without commensurate risk.
Technically, I see the COMEX/Globex gold futures market in a supertrend higher as the market trades above the nine-day simple moving average (SMA) and the 20-day SMA, as both of these SMAs point sharply higher, in my opinion.
Also, I see from a technical standpoint potential critical support at the nine-day SMA (the red line), and the market is holding here at about $1760/ounce (as of 1:52 pm on Nov. 10).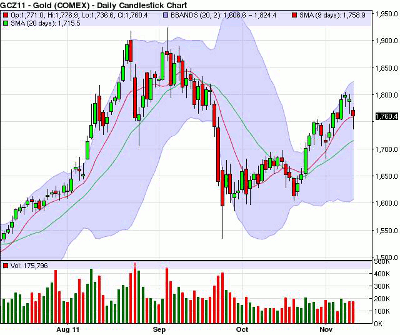 Click to Enlarge
The Options Play
Buy February COMEX/Globex gold call or call spreads or sell puts or put spreads
When we buy a call spread, it consists of buying a call option as we simultaneously sell a farther out-of-the-money call. A possible example could be the February 1850-1900 call spread, buying the 1850 call and selling the 1900 call at the same time to open the position (for illustrative purposes only).
When we buy call spreads, we also buy in a three-to-one ratio a put to help protect us against a major correction to the downside.
By Matt McKinney of Zaner Group
Matt McKinney can be contacted at mmckinney@zaner.com for details on strike prices, spread amounts, and risk. Additional charts, studies, and commentary can also be found here.
Disclaimer: Futures, options, and forex trading is speculative in nature and involves substantial risk of loss. All known news and events have already been factored into the price of the underlying commodities discussed. The limited risk characteristic of options refers to long options only; and refers to the amount of the loss, which is defined as premium paid on the option(s) plus commissions.
For customers trading options, these futures charts are presented for informational purposes only. They are intended to show how investing in options can depend on the underlying futures prices, specifically, whether or not an option purchaser is buying an in-the-money, at-the-money, or out-of-the-money option. Furthermore, the purchaser will be able to determine whether or not to exercise his/her right on an option depending on how the option's strike price compares to the underlying futures' price. The futures charts are not intended to imply that option prices move in tandem with futures prices. In fact, option prices may only move a fraction of the price move in the underlying futures. In some cases, the option may not move at all or even move in the opposite direction.