A Covered Call Trap to Avoid in 2012
01/12/2012 7:00 am EST
Focus: OPTIONS
A popular volatility ETN may not be the best candidate for a covered call strategy this year, writes Tyler Craig, showing the importance of selecting a proper underlying when trading options for income.
It's been a long time since I've addressed any reader e-mail questions, so let's kick off the New Year by tackling a question from a reader on everyone's favorite volatility ETN, the iPath S&P 500 VIX Short-Term Futures ETN (VXX).
"I was thinking of buying VXX outright, and selling a $40 Jan/2013 call against it. My breakeven after collecting the premium is 24% below current price. However, I'm concerned about time decay over the long term. What is the best way to take advantage of collecting some of the richest premiums out there with VXX?"
A great starting point for this discussion is assessing whether or not VXX is an appropriate underlying for the covered call strategy. To review, covered calls perform best in neutral to mildly bullish environments, while losing money hand over fist in bear markets. In order to sell covered calls on VXX, you would want to be able to make a compelling case that it will have a neutral to bullish year.
Given the death grip the bears have had on VXX since inception, you've certainly got your work cut out for you!
See related: 3 Ways to Profit Using Covered Calls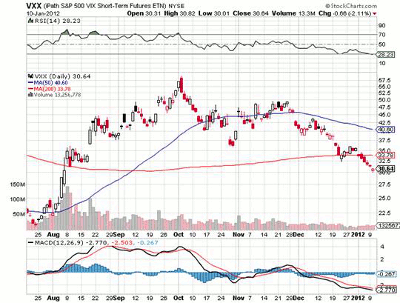 Click to Enlarge
In fact, I bet it would be difficult to find many stocks that are worse buy-and-hold candidates than VXX.
If you're heart is set on covered calls, then there are probably hundreds of alternatives that are altogether more likely to be neutral to bullish this year.
Now, suppose you did in fact come up with an intriguing argument that VXX will finally conquer the contango beast and throw together a nice mildly bullish move this year. I would not encourage jumping right to one-year options when selling covered calls. Why not sell six two-month call options, or 12 one-month call options over the year? It affords more flexibility, plus it will rack up a lot more premium over time.
The covered call profits from time decay, so as far as hurting your trade, it actually helps. I'm not really sure what you're concerned about there.
As for "the best way to take advantage of collecting some of the richest premiums out there with VXX," it all comes down to your directional outlook. If you believe option premiums are consistently on the high side, then you would want to be a net seller of options, regardless of what strategy you employ.
In the event you're bearish, you may consider short call spreads, call ratio spreads, or maybe put calendars. When bullish, consider selling puts outright, using short put spreads, or put ratio spreads.
By Tyler Craig, trader and blogger, TylersTrading.com