2 Airlines Facing a Put-Buying Storm
03/15/2012 7:00 am EST
Focus: OPTIONS
Concerns over rising fuel costs have hit airline stocks this week, writes Terri Stridsberg of Schaeffer's Research, citing large spikes in put buying for two well-known airline stocks.
Following in the footsteps of sector peer JetBlue Airways Corporation (JBLU), which saw big put buying earlier this week, US Airways Group, Inc. (LCC) was ambushed by bearish options players on Tuesday, despite the airline's president, Scott Kirby, publicly shrugging off concerns over the rising cost of jet fuel.
Roughly 13,000 puts had changed hands by mid-day, reflecting 14 times the equity's expected intraday volume. Nearly 10,100 of these puts have crossed at the out-of-the-money April 6 strike—more than half of them at the ask price, pointing to buyer-driven volume.
This option is currently home to open interest of just 1,116 contracts, making it safe to say that new positions are being initiated here. In order for traders to collect a profit on these bought-to-open puts, the stock must retreat beneath the $6 level by front-month expiration this Friday (March 16).
This spike in put volume marks a change of pace for LCC. According to the International Securities Exchange (ISE), Chicago Board Options Exchange (CBOE), and NASDAQ OMX PHLX (PHLX), the equity sports a ten-day call/put volume ratio of 5.21—confirming that calls bought to open have outnumbered puts by more than five to one during the past two weeks. This ratio ranks in the 60th percentile of its annual range, indicating that traders have been showing a slightly-healthier-than-usual appetite for calls over puts.
Meanwhile, although short interest on the airline fell by 25.38% during the past two reporting periods, these bearish plays still account for a lofty 10% of LCC's float. This could mean that short sellers looking to hedge their bets could be responsible for some of the recent call volume.
From a technical perspective, LCC is ahead by more than 37% so far this year, but has underperformed the broader S&P 500 Index (SPX) by 26% during the past 20 sessions.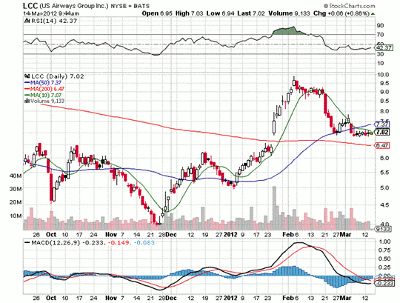 Click to Enlarge
On the charts, the stock is on pace to close a fourth straight week beneath its ten-week moving average, which had previously served as support since early December.
Its recent-session moves in a very tight range indicate it will pop out in either direction soon.
By Terri Stridsberg, contributor, Schaeffer's Research