Credit Spread Only One Thing Can Spoil
04/20/2012 9:50 am EST
Focus: OPTIONS
This REIT has traded above moving average support for months, making this credit spread trade appealing, writes Karee Venema, but with earnings coming soon, there's an added element of risk from the unknown.
Last week, option traders were picking up puts on SL Green Realty Corp. (SLG) with a vengeance, especially during the Friday session. The contracts were trading at 45 times their average intraday volume, with 2,062 put contracts having crossed the tape early in the day. As a point of comparison, only 25 call contracts had changed hands.
With traders on the International Securities Exchange (ISE), Chicago Board Options Exchange (CBOE), and NASDAQ OMX PHLX buying to open nearly six puts for every call during the past 50 sessions, the new preference for puts is just par for the course for the New York-based real estate investment trust (REIT).
What's more, this ratio ranks in the 85th percentile of its annual range, indicating that bearish bets have been scooped up over bullish at accelerated levels in recent months.
Delving a bit deeper into the information, the majority of the puts traded so far were used to employ a bullishly biased credit spread in the back-month series of options. Specifically, several blocks totaling roughly 830 contracts of May 60 puts crossed the tape near the ask price, while several matching blocks of May 70 puts changed hands near the bid price. With volume for each leg exceeding open interest at the respective strikes, it's safe to assume that new positions were created at that level.
This spread strategist ultimately expects SLG to remain above $70 through the closing bell on May 18, allowing both options to expire worthless, and thereby placing the maximum profit into the trader's pocket. However, since the spread was established for a net credit, the stock could endure a modest dip below the sold strike before incurring a loss.
Technically, SLG is sitting on a healthy year-to-date gain. Although the stock's yearly momentum was stunted during the recent broad-market selloff, the security managed to maintain its foothold atop the $71 mark. SLG has not closed south of this level since Jan. 13.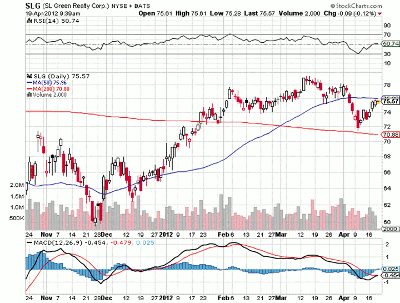 Click to Enlarge
SLG is slated to take its turn in the earnings confessional on Wednesday, April 25. The results could provide a catalyst for the security ahead of May expiration. Should the earnings results drag SLG down, the potential loss to the credit spread is limited to the difference between the strikes, less the initial net credit.
By Karee Venema of Schaeffer's Investment Research
Do you think this trader was smart in setting up this credit spread on a stock headed into earnings? Share your thoughts in the comments section below.