Earn Exciting Profits in Boring Stocks
06/04/2012 1:00 pm EST
Focus: OPTIONS
Traders looking to profit from sideways-moving or range-bound stocks may consider a straddle, writes Karee Venema, citing a recent example in popular Internet stock Yahoo!, Inc. (YHOO).
Both calls and puts were trading at accelerated levels on Yahoo!, Inc. (YHOO) in last week's trading sessions. On Friday alone, around 53,000 call contracts had crossed the tape by mid-day, representing 1.7 times their average intraday pace. By comparison, roughly 12,000 put contracts changed hands, which is 1.2 times the expected intraday volume.
Last week's trend toward calls is just business as usual for the Internet issue, which boasts a 50-day International Securities Exchange (ISE), Chicago Board Options Exchange (CBOE), and Nasdaq OMX PHLX (PHLX) call/put volume ratio of 2.14. What's more, this ratio ranks higher than any other such reading taken in the past year, showing that calls have been bought to open over puts at an annual-high clip in recent months.
Echoing this optimism is the stock's Schaeffer's put/call open interest ratio (SOIR). YHOO currently has 902,733 outstanding call contracts among near-term options, versus the 342,977 contracts that make up total put open interest. YHOO's SOIR of 0.38 now ranks lower than 70% of other similar readings taken over the previous 12 months. In other words, short-term speculators are more call-heavy than usual toward YHOO.
On a technical basis, YHOO has lost 5.8% of its value year-to-date. In mid-February, the stock dropped significantly lower as talks to unwind its stake in China's Alibaba Group disintegrated. The shares have been somewhat stagnant since then, dancing around their 320-day moving average (in green).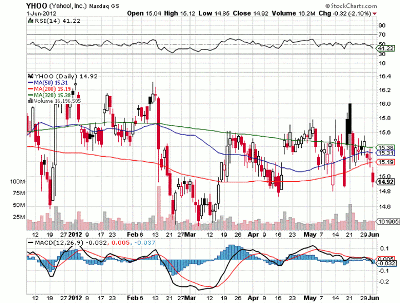 Click to Enlarge
One options player in a recent session is hoping for this idle price action to continue in the short term and used both calls and puts to employ a short straddle in the June series of options. One block of 500 June 16-strike puts crossed the tape at the bid price of $0.91, while a symmetrical block of 500 June 16-strike calls changed hands at the bid price of $0.41. A net credit of $1.32 was established.
In the best-case scenario, YHOO will remain stuck near the $16 area through June expiration, allowing both the sold call and the sold put to expire worthless. In this case, the spread strategist can retain the initial premium collected, which is also the maximum potential reward. However, the trader still stands to profit as long as the stock stays between the two breakeven levels at $14.68 (strike minus net credit) and $17.32 (strike plus net credit).
Should the shares experience some significant price movement in the interim, losses are theoretically unlimited to the upside and substantial to the downside.
By Karee Venema, contributor, Schaeffer's Research