Charting Error Can Sink Option Traders
06/26/2012 7:00 am EST
Focus: OPTIONS
Traders applying technical analysis in the options market must be sure to use a chart of the underlying security and not just the chart of option premium, warns Brandon Wendell of Online Trading Academy.
Options volume has exploded in the last ten years in the retail trading sector. There's even an entire event focused on forex and options, the two hottest markets of 2012, in September. It's called The Forex & Options Expo, and I think this will be a terrific event to attend (plus, it's free!). The more knowledgeable you are about multiple asset classes, the more opportunities you will find.
Due to the relationship between the asset classes, you can increase your odds of success in trading through proper analysis of the related assets.
A common mistake that I have noticed with traders who look at trading options is that they apply their technical analysis to the chart of the option premium itself. You have to remember that options are a derivative and they get their value from the underlying security. Therefore, you would want to chart the security itself to make your trading decisions on the options.
Looking at the following chart of the "Nifty" futures, you can see that price is at a supply zone.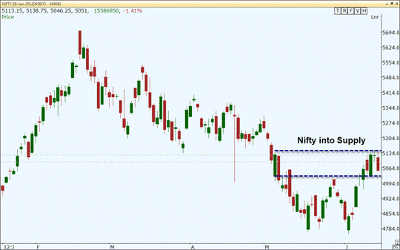 Click to Enlarge
To increase the odds of our trading becoming successful, we may want to look at the charts of the options premium. The 5100 calls happen to be at a supply zones while the puts are at demand. Both of these are bearish signals for the index.

Click to Enlarge

Click to Enlarge
NEXT: See How Charting Only Premium Can Mislead You
|pagebreak|
Do not think that charting the option premiums is the best way to trade a stock or the option itself. In the following stock chart, the security is at a demand zone, but it is the second time to that zone and it is likely to break down.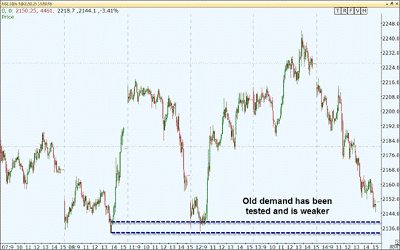 Click to Enlarge
The 2200 call option is also at a demand zone. A trader who only views the chart of the premium may be enticed to buy the call, however, with the stock at a weakened demand, this trade has a lower probability of working.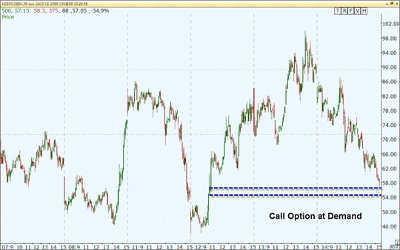 Click to Enlarge
Options are perhaps the most difficult asset class to trade. This is due to the fact that you must have a proper understanding of option "Greeks" in order to trade them with a high degree of accuracy.
Do not make the mistake of trading options without that knowledge, and do not trade solely on the charts of option premium.
By Brandon Wendell, trading mentor, Online Trading Academy