Is This Option Trader Over-Caffeinated?
07/26/2012 10:00 am EST
Focus: OPTIONS
Andrea Kramer of Schaeffer's Trading Floor Blog explains how one option trader is utilizing a bear put spread to bet on more downside for the ubiquitous coffee chain.
After gapping lower early in the week, the shares of Starbucks (SBUX) are testing the support of their 200-day moving average, and it looks like one options trader is betting on more downside for the coffee king. However, with the company's earnings around the corner, the options strategist is toeing the cautious line.
On Tuesday afternoon, symmetrical blocks of 4,000 contracts changed hands at the September 45 and September 52.50 puts. Open interest skyrocketed at both strikes overnight, confirming the initiation of new positions.
But while the 52.50-strike puts traded for the ask price of $3.82, suggesting they were bought, the 45-strike puts crossed at the bid price of 91 cents, implying they were sold. Or, simply put, it looks like the trader constructed a bear put spread for a net debit of $2.91 per pair of puts.
By selling the 45-strike puts, the skeptical strategist trimmed his cost of entry, which also doubles as the maximum risk on the play. What's more, he also cut his breakeven rail to $49.59 (bought put strike minus net debit), compared to $48.68 (bought put strike minus $3.82 premium), had he simply purchased the 52.50-strike puts. However, the sale of the lower-strike puts also limits his maximum potential profit to $4.59 (difference between strikes minus net debit), no matter how far SBUX should sink beneath $45.
Nevertheless, it's no wonder the speculator was hesitant to simply buy the 52.50-strike puts. Ahead of Starbucks' earnings release tomorrow, the stock's Schaeffer's Volatility Index (SVI) has soared to 39%—above 57% of all other readings of the past year. In other words, the security's short-term options are relatively pricey at the moment, since demand increases ahead of a potential volatility catalyst like an earnings report.
As alluded to earlier, the stock seems to be headed for a test of its 200-day moving average, which has contained the equity's pullbacks for the past year.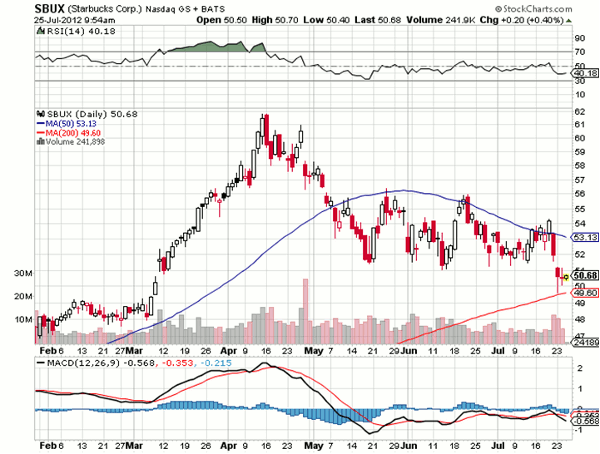 Click to Enlarge
Andrea Kramer can be found at Schaeffer's Trading Floor Blog.