The Option Trade I've Set Up in Apple
09/24/2012 8:00 am EST
Focus: OPTIONS
Marc Sebastian of OptionPit.com outlines a calendar spread option trading idea in Apple.
What makes a successful option calendar spread? It's actually pretty easy to figure out:
First, buying low overall Implied Volatility.
Second, finding the right spread between months. In other words, being able to buy the back-month option for a cheap price and then, relative to the back-month option, being able to sell the front-month option for an expensive price.
And here are a few things that don't matter:
The time frame of the trade


The theta (if you are using spreads as a theta play and not trading the vols, you will lose)


What months are bought and sold


Calendar spreads can pop up in odd places in some of the most active names. For instance, take a look at December IV vs Jan IV in Apple (AAPL):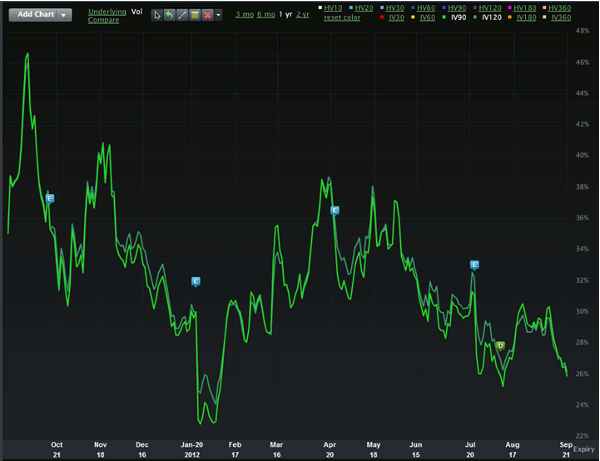 Click to Enlarge
Notice that overall implied volatility (IV) is in the toilet, yet at the same time December is trading as tightly to January as we are used to seeing.
This sets up a great spread, because even if IVs do fall further, it cannot happen with out Dec and Jan spreading out, and if IVs increase, the same is likely to happen. The spread can be put on for between 5.60 and 5.80.

Click to Enlarge
Notice that, while it has little gamma and a small theta, it has lots of vega, which we like. We also like being short the relatively expensive month.
I have put this on in small size and will be tracking it, and if it gets much cheaper, it's going to go into the strategy letter at OptionPit.com. That said, this is a pretty nice set-up right now, and is super tempting to trade in size.
The Trade: Buy the AAPL Dec-Jan 710 Call Spread for 5.80 or better, then offer it out at around 7.00
Marc Sebastian can be found at OptionPit.com.