No Juice Left in Apple?
08/15/2013 8:00 am EST
Focus: OPTIONS
Apple has long been a favorite of day traders for its huge trading volumes, as well its zippiness, but Mark Sebastian of OptionPit.com notes that those days seem to be over, although Icahn's announcement of a large stake did juice it up 5% on Tuesday.
Over the last earnings of Apple, Inc. (AAPL), I was flabbergasted at how little AAPL IV moved both ahead and after earnings. The stock basically sat there spinning as IV dipped lower and lower into the earnings calls. Many traders (me included) got beat bad playing the earnings volatility ahead of the announcement.


Livevol- www.livevol.com
Click to Enlarge
Livevol (r) www.livevol.com
After earnings, the stock continued to have NO movement in volatility. This makes little sense in a high flyer like AAPL...until I looked at stock and option volume numbers in the last few weeks.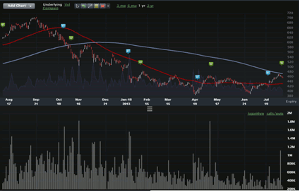 Livevol- www.livevol.com
Click to Enlarge
Volume numbers are getting completely crunched. The drop in volatility was preceded by a drop in volumes in the stock and the options. Traders were saying, we don't care anymore, we don't think this is worth playing in well before earnings. Volume numbers never lifted into earnings or after.
One could start a chicken or egg argument, but in truth, volume drives volatility in big name stocks. If volumes are increasing in a stock one can almost be certain that IV is increasing, or plummeting. When IV slowly dies, volumes are dying. That is what is happening in AAPL and why the stock is, in our opinion, done being interesting as a major trading vehicle to professional option day traders.
The Trade
AAPL is going to be a ping-pong range-bound stock for the time being. Find something else to trade or turn this into a swing trade stock. The age of day trading for huge dollars in AAPL is over. I think it's probably going to be trending down in the near term, Sep IV looks cheap.
By Mark Sebastian, Blogger and Contributor, OptionPit.com