Trading Options on BOFA's 2014 Stocks
12/11/2013 8:00 am EST
Focus: OPTIONS
Jared Woodard of CondorOptions.com offers his analysis of options on Bank of America's 2014 stock picks, along with some trade ideas.
Bank of America Merrill Lynch's equity and quant strategy team publishes a list of stocks each year, choosing one from each GICS sector. The stocks are selected based on quantitative screens and in-house analyst and year-ahead outlook expectations. The tickers for their 2014 list are below, and the full note is floating around at various places on the web.
I thought it might be fun to check on what the options market has to say right now about these stocks, and to record the prices of some call spreads for later review.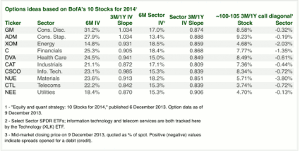 Click to Enlarge
This table shows the implied volatility of options at a six-month horizon for the individual stocks and the SPDR ETFs for the sector to which each stock belongs. Also displayed is the ratio of three-month and one-year implied volatility (term structure slope).
Nearly every stock has a flatter IV term structure than its sector, which is to be expected given the greater diversification of the latter, but in some cases the difference is pretty striking (GM, ADM, CSCO). In the final two columns, I show the price of three-month, one-year call diagonal spreads using the strikes closest to 100% and 105% of the spot price, with spread prices expressed as a percentage of spot. The approach here is to be selling three-month vega on the individual stocks but in a way that is also bullish on price, given these are all buy recommendations. Then, we take the opposite trade in the related sector. For example, here are the trades represented in the first row:
GM: Buy Jan15 40 calls, sell Mar14 43 calls
XLY: Sell Jan15 70 calls, buy Mar14 65 calls
There are two reasons I added the paired sector positions. First, while the sector trades offer bullish exposure with prices about a half standard deviation higher by March expiration, they also provide flat or positive bearish exposure in case of a selloff of one standard deviation or more. Second, the sector trades also hedge some of the vega positioning in case term structures flatten significantly. The risk there would be that March options would not lose value as quickly as expected in the equity option positions, so owning some relatively underpriced (steeper IV term) sector vega in March should reduce that risk.
These are not recommendations. Additionally, the original stock list is intended to be held for one year, while most of the trades I've noted have legs that expire in March or April. We'll check in on these at the end of Q1 to see how things went.
By Jared Woodard of CondorOptions.com