Bears Are Feeding on Corn
01/21/2014 8:00 am EST
Focus: OPTIONS
In my view, the bearish fundamentals, along with the long-term bearish techinicals could pose opportunities for premium sellers, says Matt McKinney of Zaner Group.
Fundamentally, there are some tremendously bearish reasons why the long-term bear move in corn could continue. Here are three of them according to Hightower Reports:
1. Traders are questioning feed demand.
2. Many speculators and funds see the bear market in corn extending far into 2014 and see any rally as a selling opportunity.
3. More specifically, the USDA report last week reported that "On farm" supplies totaled 6.38 billion bushels, up 39% from a year ago and "Off farm" supplies totaled 4.05 billion bushels, the highest on record.
Technically, I have placed several indicators on this monthly corn chart. They are the 9-, 20-, and 50-period simple moving averages (SMA'S), the Bollinger Bands (BB's, light blue shaded area), volume, and candlesticks. The first item that I notice from placing these indicators on the chart is the cross of the 9-period SMA (red line) under the 20-period SMA (green line) back in the month of July 2013 as both the indicators point downward on very sharp angles AND the market trades below the 9-period SMA (red line). This to me, is what I have coined a long-term "super-trend" down. I expect this technical trend to continue.
I also noticed after applying my favorite technical indicators to this monthly corn future chart that this market is somewhat oversold for the following reasons:
1. The market is trading well below the 9-period SMA (red line) which is now the first area of resistance in my view. The market is also well below the 20-period SMA (green line), which is now the second area of resistance. Typically the market could move back up to these areas and hold, only to go on and make new lows, if they are real resistance.
2. Next, the market is trading well below the longer term 50-period SMA (blue line), which could also be considered the second area of resistance. Although, oddly enough it is on a slightly upward slope.
However, I am of the belief that markets can remain oversold for long periods of time, particularly if the market has strong downside technical momentum. Finally, I can't help but notice how the top and bottom line of the Bollinger Bands look. With the top one pointing so high that it is literally off the chart and the bottom line is pointing almost straight down. Very conflicting indications in my opinion. Not enough though to change the overwhelmingly long-term bearishness on this monthly corn chart with my favorite indicators on it.
This is just my technical opinion based on my favorite trend identifying indicators on the monthly CORN chart below. Nothing works 100% of the time, but I like the long-term trend to remain down for the foreseeable future.
MONTHLY CORN CHART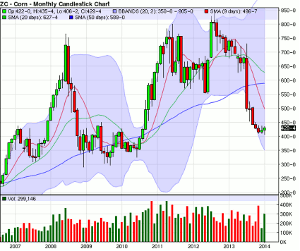 Click to Enlarge
Options Play
Since, I am now bearish in the long term on this market there could be several ways to play this market with options and one could be to buy straight put options or bear put spreads in a 3 to 1 ratio with a call for a hedge or "insurance" in case the trend changes on a dime and the market rallies. Another potential play could be to sell naked options or option spreads and collect premium, again maybe with protection in the form of a futures contract or with other option strategies. Remember, when you sell naked options you have unlimited risk and should have a "well funded" account of risk capital.
By Matt McKinney of Zaner Group