VIX Realized Vol About As Low As It Gets
09/10/2014 8:00 am EST
Focus: OPTIONS
After spending some time looking at the VIX, Mark Sebastian of OptionPit.com has determined, even though it's nearly as low as it can go, it's possible things could get worse; here, he explains how and just what to do about it.
I spent some time looking at VIX vol on Monday.  I have to say, it's about as low as it gets...but could go even lower.  Take a look how much HV has plumpted in VIX over the last few weeks.  But, taking a look at 30-Day HV,  it's possible things could get worse.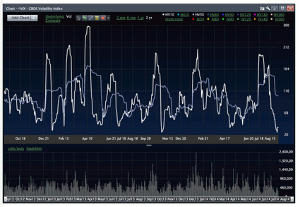 LivevolX® www.livevol.com
Click to Enlarge
Take a look at the spread between 10-day and 30-day HV.  While 10-day is in the basement, 30-day is actually still relatively high (this is because of some of the movement the market had at the beginning of August.  As those days keep rolling off, 30-day HV is going to plummet. 
There are traders who will look at 30-day plummeting and move to try to "buy cheap vol."  Unfortunately, in a market like this,  the smart BD types are going to have to scalp the decay that they purchase.  More BD's trying to scalp premo will actually reduce HV, which could force HV in the 10-day and 20-day down to decade lows.  This, in turn, could stop the VIX from moving, which will tank VVIX.
The Trade
Some day the SPX will start moving again.  I do not think that is this week.  I would be looking to put on butterflies versus some sort of longer-term long premium play.  In terms of VIX, I think October futures are probably still a little too low.
By Mark Sebastian, Blogger and Contributor, OptionPit.com