Symmetrical Triangles and Bear Pennants
10/29/2014 8:00 am EST
Focus: OPTIONS
Matt McKinney of Zaner Group illustrates how he finds these two technical formations the most reliable and suggests crude oil futures plays for options traders since he sees crude prices moving lower from here.
Options play: Do you know what a symmetrical triangle or a bear pennant is?
Well, to me, they are two of the most reliable technical formations that I have ever come across.
Fundamentally, the Energy Information Agency (EIA) showed what, to me, is a huge increase in supplies from last week to this week. All along I have stated that we have been in a glut situation with crude prices falling. The market also doesn't seem to want to correct at all. Well, with a build in supplies of over seven million barrels this week, it would seem the bears are on firm footing. In my view, anything over a five million barrel change up or down is a market mover.
Technically, on the chart below I have placed my favorite technical indicators. They are the 9-day Simple Moving Average (SMA, red line), the 20-day Simple Moving Average (SMA, green line), and the 50-day Simple Moving Average (SMA, blue line). I have also added the Bollinger Bands (BB's, yellow lines) and Candlesticks (red and green bars), each bar represents one day of trading on these daily charts. I have also placed bright white arrow lines that form one of my favorite technical indicators of all time, the symmetrical triangle.
Whichever way the market breaks out of the white arrow lines that form the symmetrical triangle could be the way the trend goes for a long period. It has been said—and I find this to be true in more instances than not—we go out the way we came in. In this case, that would be down.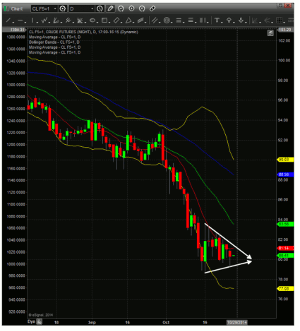 CLF5 daily crude chart
Click to Enlarge
Below you can see how the same chart could potentially also be considered a bear pennant, indicated with my "bright white arrow lines." All of the same rules that I mentioned above for the symmetrical triangle apply here.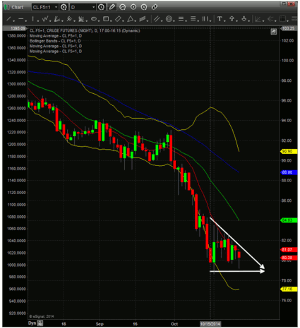 CLF5 daily crude chart
Click to Enlarge
Option Play:
Since I see crude prices moving lower from here, a play could be to buy put options or bear put spreads with a call for a hedge in a 3-to-1 ratio just in case the trend changes dramatically to the upside. Another play could be to sell deep out-of-the-money calls collecting premium. Remember selling naked options involves unlimited risk and should only be considered if you have a well-funded account.
By Matt McKinney of Zaner Group