Options Trading Strategy—Scale into Bullish Put Spreads
09/23/2015 8:00 am EST
Focus: OPTIONS
Since the Fed did not hike rates and he feels this is market friendly, option trader Pete Stolcers, of OneOption.com, shares his current option strategy that allows him to distance himself from the action and take advantage of time decay and a decline in option implied volatilities.
Posted 9:45 AM ET Tuesday— Last week, the Fed did not raise rates. Typically the market would have rallied on the news. Stocks have gradually been drifting lower and the S&P 500 is down 27 points before the open Tuesday. We could test horizontal support at SPY $192 Tuesday.
I believe the market will find support this week. Seasonal weakness will run its course soon. Asset Managers are pulling their bids so they can gauge selling pressure. As soon as support is established, they will start nibbling. They do not want to miss a yearend rally and there are decent values at this level.
China has thrown the kitchen sink at their economic decline and their market will find support. China's market was only down 1% overnight. China's economy is still growing at a 6% rate and it is not falling off of a cliff.
The Fed did not hike rates and this is market friendly. Domestic economic conditions are sluggish, but stable.
European markets were down 3% and I believe the refugee crisis is dampening spirits. More than 1 million immigrants have flooded Europe and the problem is far from over.
I have been selling the VXX. My position will take a little heat Tuesday, but nothing disastrous. Option implied volatilities will fall after the FOMC decision and I will continue to scale into this position. The Yellen put is still alive.
I will also monitor stocks and I will be looking for relative strength Tuesday. I want to sell out-of-the-money put credit spreads below support. If that support is breached, I will buy the spread back. This strategy allows me to distance myself from the action and I can take advantage of time decay and a decline in option implied volatilities. I sold some puts Monday and I will add Tuesday.
Asset Managers will be watching for support. I would like to see a deep decline with a sharp intra-day reversal that never looks back. Once I see that, I will get more aggressive with my bullish put spreads.
Flash PMI's will be released Wednesday and bad news is priced in. I believe any surprise favors the upside.
Wait for support and continue to scale into bullish put spreads.
Realize that we are early and that your positions will take a little heat along the way. Once support is established, the bounce should happen very quickly.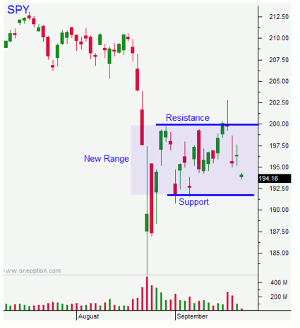 Click to Enlarge
By Pete Stolcers of OneOption.com