Remembering Alan Abelson
05/10/2013 1:25 pm EST
Focus: MARKETS
The longtime Barron's columnist was a giant in the Greatest Generation of business journalism, as peerless now as he was then, writes MoneyShow's Howard R. Gold, also of The Independent Agenda.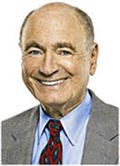 Yesterday came the sad news that Alan Abelson, the great columnist and editor, had died of a heart attack at age 87. He had been writing his popular and influential column, "Up and Down Wall Street," almost until the end.
Actually, he had been writing it for 47 years, having begun it in the midst of the
Mad Men era. As a columnist, he stood head and shoulders above the rest of us, combining razor-sharp analysis with a style that was at once elegant and conversational.
Abelson wrote with humor and grace, but he also came to the point bluntly, much to the chagrin of his hapless targets, who often deserved it. Alan was absolutely fearless and impervious to spin. For him sacred cows were meant to be skewered.
In a field not known for its humor (Allan Sloan being a notable exception), Abelson's wit was dry and sly, and he had more varieties of sarcasm than Heinz had ketchup. I suspect his was the best prose much of his Wall Street audience read all week, and many of them read him for pleasure as much as for work.
But he also was a great editor who shaped business journalism during its Golden Age of the 1980s. That was the time of Michael Milken, leveraged buyouts, insider trading and the stock market crash of 1987.
During that seminal period, Abelson turned a group of hungry reporters loose on the financial statements of companies whose stocks often had no business trading where they were. Woe to them if there was a hole in their balance sheets or a questionable statement in their footnotes; Abelson and his charges would find it and publish it.
His edgy, analytical approach to business was similar to that of Jim Michaels, born four years earlier, who produced legendary journalism at Forbes and, like Abelson, trained what became the next generation of top business journalists.
During that same period, Marshall Loeb pioneered personal finance journalism at Money magazine and ran Fortune, while Steve Shepard took Business Week to a new level and Norm Pearlstine and Paul Steiger broke new ground at The Wall Street Journal.
That was when the Journal and the great business magazines dominated coverage, before CNBC, the Internet, and 24/7 global markets. Editors had much more leeway and followed their guts. They could be imperious, but they also produced brilliant, original journalism that changed the way people looked at business forever.
Alan Abelson was a giant of that Greatest Generation of business journalism. No one else achieved what he did as both a writer and aneditor. In this way, as in many others, he was peerless.
So, throw out the mold. Retire his number. And say a sad farewell. We shall never see his like again.