Look to the Silver Explorers
02/28/2012 11:00 am EST
Focus: STOCKS
With commodities on the rise again, and gold and silver in particular demand, one of the best ways to play the trend isn't with miners, but exploration companies, writes Tyler Laundon of The Daily Profit.
At the end of the day, there's one thing I look for in a mining company: production growth.
This is the key ingredient to a successful precious-metals investing recipe. Grow production steadily and a lot of the other things—high profit margins, revenue growth, and funding for exploration—fall into place. But don't grow production, and, well, I'm not too interested.
Take Endeavour Silver (EXK), for example. In 2009, the company produced 2.6 million ounces of silver. With two mine expansions, production grew to 3.3 million ounces in 2010, and will likely hit 4.3 million in 2012.
The share price has risen 210% since mid-2010. But those who bought when production just began in 2004 have seen their position grow ten-fold.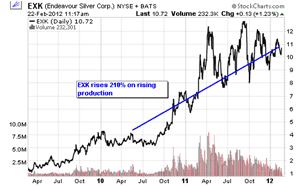 Click to Enlarge
Because production growth is so important—and is likely to dictate which way a company's share price goes—you've got to understand where a mining company is along its life cycle before you jump in.
This is pretty easy to do, because mining companies tend to follow a fairly distinct growth curve. In the early stages of life, these companies are primarily explorers—they're out in the field looking to acquire and explore properties that may have valuable ore deposits. Canadian explorer ATAC Resources (ATADF) falls into this category.
Explorers have no revenues, and rely on the debt and equity markets for necessary capital. Some of these companies are attractive investments, and offer huge upside potential if they can get a property to development stage. They also can carry higher risks, since they don't yet have cash flow, permits, and proven reserves.
On the opposite end of the life-cycle spectrum are established producing and silver streaming firms. Companies in this category include Hecla Mining (HL) and Silver Wheaton (SLW).
These are relatively stable companies, but they don't have the same upside potential as the explorers. That's because it takes exponentially greater production and estimated reserve base to justify a big increase in share price.
Subscribe to The Daily Profit here...
Related Reading:
Silver Set for Wild, but Profitable Ride