"Be Leary of Health Care"
10/31/2016 7:00 am EST
Focus: ETFs
Volatility has increased in equities. Investors keep rotating assets among different sectors as the major averages have been moving up and down within a fairly tight trading range, suggests Bonnie Gortler, editor of Systems and Forecasts.
The chart below is the weekly Health Care SPDR (XLV) that is comprised of companies from industry groups including pharmaceuticals; health care providers & services; health care equipment & supplies; biotechnology; life sciences tools & services; and health care technology.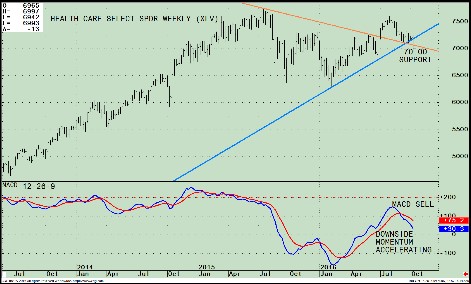 As of 10/11/16 the top 5 holdings in the XLV were Johnson and Johnson (JNJ), Pfizer (PFE), Merck (MRK), United Health Group (UNH), and Amgen (AMGN).
In June 2016, the XLV broke its downtrend (orange line) unable to surpass its 2015 highs. Subsequent weakness has followed. It looks to me like more downside is ahead.
A bounce to $72.50 is possible, but looks to be more vulnerable to more selling. Next support is $60.00. The lack of strength on previous rallies does not bode well for the health care sector.
The bottom half of the chart shows MACD, a measure of momentum. MACD is on a sell, not yet oversold from where good buying opportunities develop.
It's bearish that MACD is falling and downside momentum is accelerating. This is not a good time to be over invested in health care. Caution is warranted.
The chart below is the monthly Health Care Select Sector SPDR ETF to S&P 500 ratio (XLV/SPY). The XLV is stronger, and if falling, the S&P 500 is stronger. The XLV/SPY ratio has been in a solid uptrend since 2011.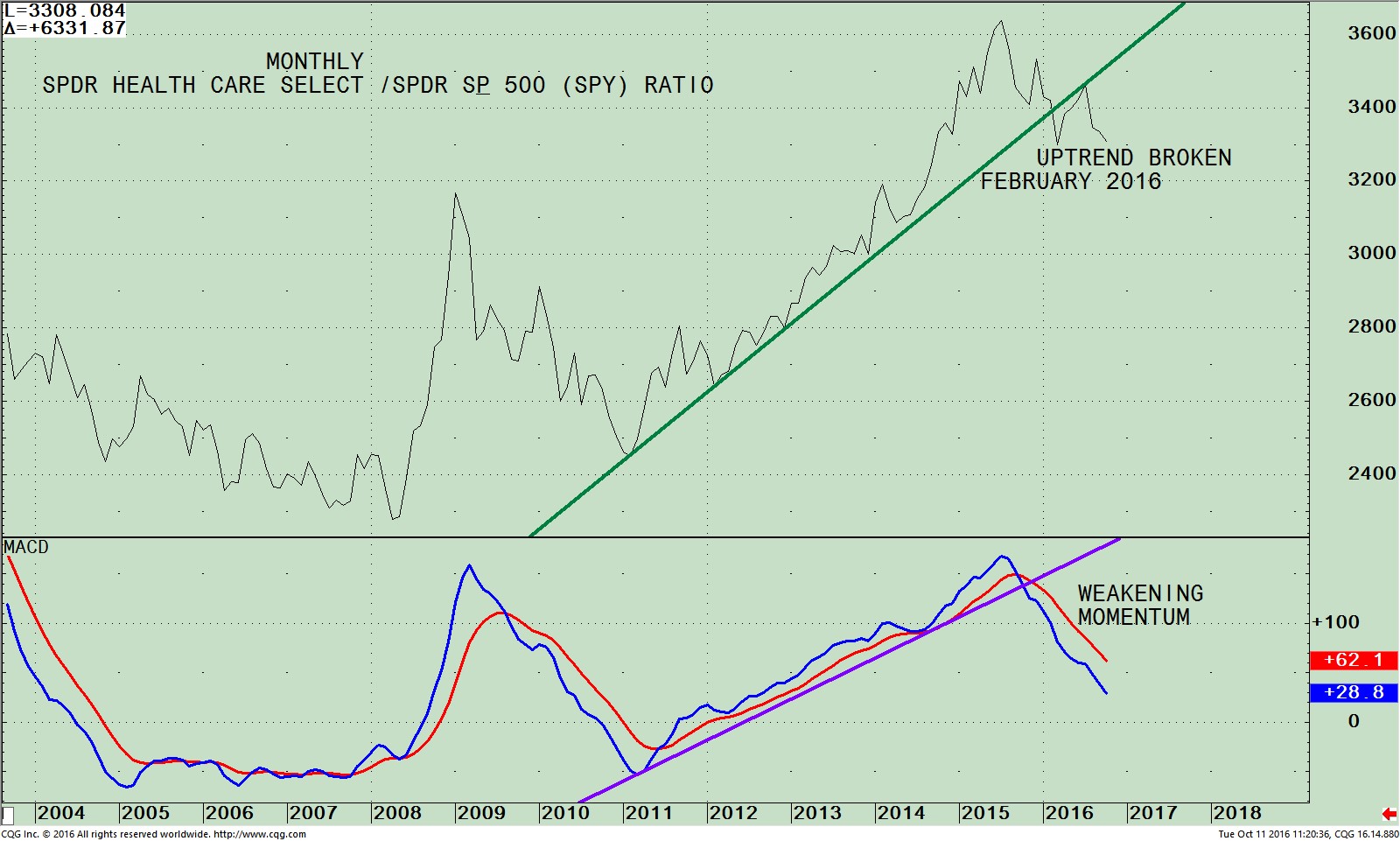 In July 2015, the (XLV/SPY) ratio peaked followed by a lower high made in December 2015, giving a warning of deteriorating momentum.
A few months later, in February 2016, the uptrend from 2011 was broken (green line). Another rally attempt occurred, but failed to go through the downtrend line and now has turned down again, not a good sign.
The bottom half of the chart shows MACD, on the (XLV/SPY) ratio. MACD generated a sell, turning down from an overbought condition, and its momentum is still weakening.
There is no favorable bottoming formation in place. It will take many months before this type of pattern can develop.
XLV is lagging the S&P 500 not only for the month of October, but underperforming for the year. The intermediate and long term trend is clearly down.
No favorable patterns are in place at this time. Instead evidence shows that downside momentum is accelerating. Caution is advised.
I am recommending reviewing your portfolio to be sure you are not overweighed in health care. Stock selection will be very important as earning season is here, and any downside earnings surprises will not be forgiving.
Subscribe to Systems and Forecasts here...
By Bonnie Gortler, Editor of Systems and Forecasts