Trump Jump: "Sell Bonds"
11/16/2016 7:00 am EST
Focus: DIVIDEND
One of the biggest upsets in election history is moving all of the markets. They're volatile and they're swinging, and this will likely continue, at least for the time being, suggests Mary Anne and Pamela Aden, editors of The Aden Forecast.
Basically, the markets are looking ahead and they're reacting based on the actions Trump may, or may not take. This has turned many of the markets upside down.
Interest rates were the biggest surprise. Following Trump's win, the 10 year yield soared in its biggest jump in three years, hitting a 10 month high.
The story was that the Chinese dumped huge amounts of Treasuries. And combined with the likelihood of fiscal stimulus and inflation expectations, it drove bond prices down sharply.
The chart below shows the surge in the 30 year yield. It had been on a moderate upward slope since July, but the Trump tear shows that we could see more upside on the yield.
It could possibly rise to its mega 80 month moving average, now at 3.29%. Note the June 2015 high at 3.25% is converging with this mega average, which could be an easy target to reach.
The indicator below jumped up to the highs, and while it's suggesting the upside is limited, it could rise more and hold near the highs while the yield rises further. This would be similar to the May-June 2015 highs. The 30 year yield is strong by staying above 2.60%.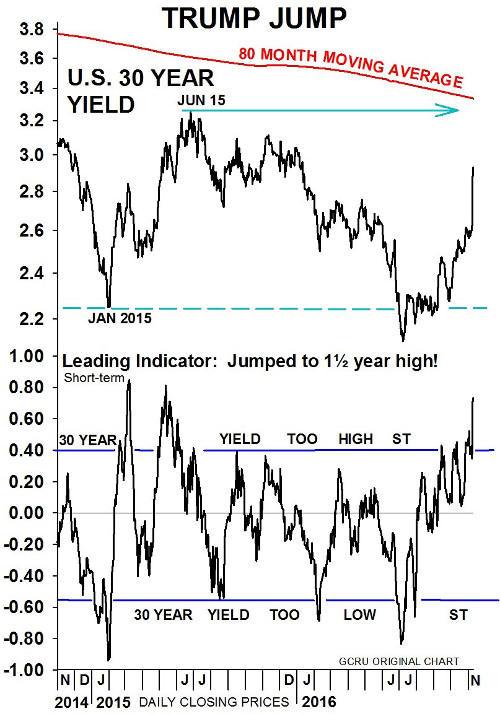 Considering the overall situation, we can no longer justify holding our bonds. We, therefore, recommend selling your 20% position in long term government bonds.
We also now recommend selling our portfolio holding in bond ETFs, which are the iShares Barclays TIPS Bond Fund (TIP), the SPDR Lehman Long Term Treasury (TLO), ProShares Ultra 20+ Year Treasury (UBT) and the iShares Barclays 20+ Year Treasury Bond (TLT).
Subscribe to The Aden Forecast here…
By Mary Anne and Pamela Aden, Editors of The Aden Forecast