Join Toni Hansen LIVE at TradersEXPO Chicago!
Join Toni Hansen LIVE at TradersEXPO Chicago!
Buy Setup to Watch: Convergys Corporation (CVG)
08/27/2008 12:00 am EST
Focus: STOCKS
CVG provides relationship management solutions. The company's solutions enable its clients to drive value from the relationships with their customers and employees.
CVG is a bit of an unusual pick in that I often go with stocks heading in the direction of a larger trend for a position trade. There have been notable exceptions, however, and CVG is one of them. The pattern that has been developing in CVG is similar to the short given in EXC, which triggered heading in June and dropped sharply in July. It involves three key pivots following a sharp momentum move. In EXC, this momentum move was a push higher with three slightly higher highs. In CVG, it is a sharp drop followed by three slightly lower lows on the monthly time frame. Unlike EXC, however, we don't have the chance to catch CVG directly off its third low because the larger pattern has a longer-term outlook.
Although it is at resistance currently, the next major resistance zone is $17-$18 per share, which will serve as the initial target level. If the momentum is strong into that target, then shares can easily land in the $24 zone over the next year. The volume surge into the beginning of last August confirmed the initial move lower was an exhaustion move. The volume has since increased coming off the third low, providing confirmation to the reversal.
I will be looking for daily continuation patterns on the upside to build a position. $11.50 is support in the zone of the July low.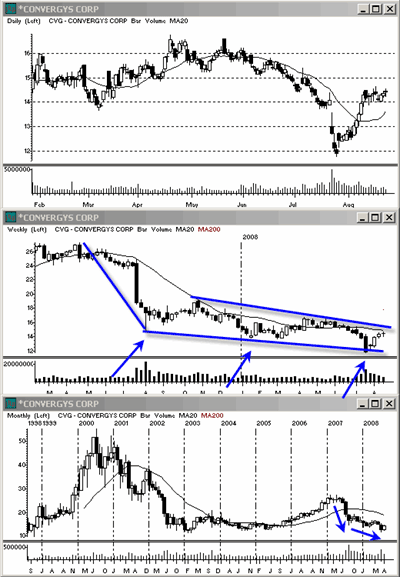 By Toni Hansen of TradingFromMainStreet.com