Tread Lightly with Ultra and UltraShort Financials ETFs
09/19/2008 12:00 am EST
Focus: ETFS
The ProShares Ultra Short Financials (SKF)-- this exchange-traded fund (ETF) seeks daily to achieve results that are twice the inverse of the daily performance of the Dow Jones US Financial Index.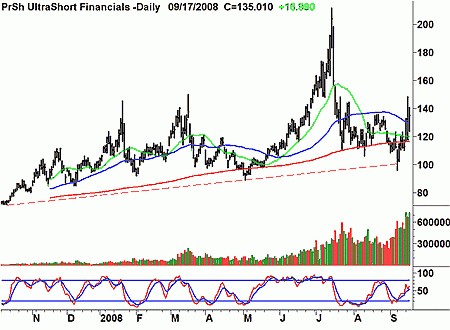 This highly volatile contra-fund will fall sharply on a reflex rally in the financial stocks. Therefore, traders should wait for a rally to run its full course before entering this dangerous ground.
Support is currently at just under 120, where new positions will likely be taken.
Editor's Note: The 16% drop in the ProShares UltraShort Financials exchange-traded fund, SKF on Thursday brought the fund below its 200-day moving average.
At the same time, the increasingly overbought ProShares Ultra Financials ETF (UYG,) was up more than 18% on Thursday. UYG trades below its 200-day moving average and closed above its five-day moving average for the first time in seven days.
By Sam Collins, of OptionsZone.com.