Home Builder for High Rollers
09/25/2008 12:00 am EST
Focus: STOCKS
Lennar Corp. (LEN)—This US homebuilder engages in the construction and sale of single-family attached and detached homes, and to a lesser extent multi-level residential buildings.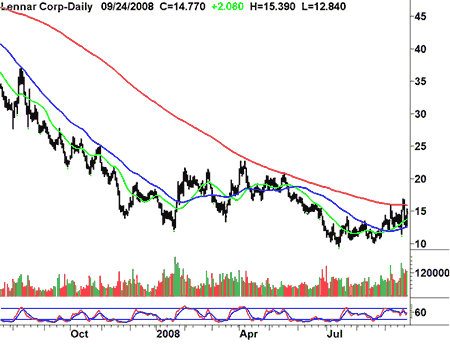 The stock price fell from above $56 in February 2007 to $9.33 on July 15, 2008.
Under the current circumstances, it is difficult to imagine a more unlikely stock to be forming a bottom than LEN—and other companies in this industry for that matter. And yet in the future, when the economy improves and credit becomes available, someone will have to build homes.
For those willing to take a high risk and a small position in this or one of the other builders, it could prove rewarding in the long run.
By Sam Collins of OptionsZone.com