Ideas for Trading Crude Oil Futures
09/26/2008 12:00 am EST
Focus: FUTURES
Just when everyone thought that yellow gold was overtaking its dark counterpart, the media stepped in. Everyone and more made it a point to talk about how high oil went on Monday, September 22. They were right—it was the biggest up move by oil in history— the only problem was, the move was like a house built on sand.
Tuesday was expiration day for the October NYMEX crude contract. It was a classic example of a "short squeeze." Those short the October contracts were forced to pay up. Despite what the media says or thinks, this was not a flight to safety from the current risk of equities by mainstream America. First of all, America as a whole generally does not use the oil futures contract to hedge risk. That would be no different than retiring from base jumping and starting a new career in alligator wrestling. Second, the liquidity was extremely low on the October contract, as traders naturally gravitated toward the November contract, which became the front month today. This unprecedented move was made by professionals who were positioning themselves for delivery, or lack thereof.
Today, Tuesday September 23, oil had a high of $108.90 and a low of $103.25. This is extreme volatility. The big contract trades for $1,000 per point, meaning there was roughly $5,000 of volatility per point. The November contract closed down roughly $3 at $105.90.
Rhetorically speaking, was the October crude contract's bullish move a sign of the panic that the media made you think there should be? I will let you answer for yourself, but it is painfully obvious to me. Below is a 60-minute chart of the November crude contract for September 22 and September 23. As you will see, it had a decent move up, but upon open on Tuesday it was able to erase those gains. If you learn nothing else from this article, remember this: education is your best friend. Learn what the futures markets are, how they trade, when they trade, and why they trade, and you will have astronomically higher odds of being a more successful investor.
In the meantime, consider crude oil futures—they are fantastic trading vehicles if you become familiar with the charts.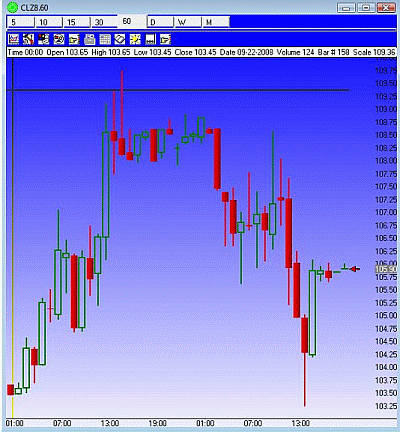 By Tom Busby of DTITrader.com