Opportunities in Amazon (AMZN)
10/01/2008 10:36 am EST
Focus: STOCKS
I am always looking for stocks with interesting sentiment profiles that have pulled back to support. One stock meeting the criteria is Amazon.com, Inc (AMZN). In terms of easily identifiable chart support, it doesn't become much clearer than this.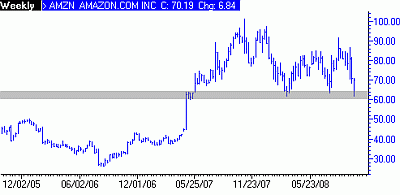 This weekly chart shows that the zone near 60 has been important two times recently. It "caught" the pullback in March and then serves as support in July, a point I've discussed in the past. Amazon's shares kissed this area yesterday and are bouncing off it today. As far as the sentiment profile goes, what caught my eye is a general lack of overt optimism from the Street. According to Zacks, only 6 of 13 analysts (46 percent) rank the stock with a "buy" rating.
I like the pullback to support because it gives you a way to define your risk. I like the analyst configuration because it opens the door for upgrades. Given the all-around market turmoil, I think that analysts may be looking for ways to shake things up. All things considered, I would say that Amazon.com shares have held up fairly well so this seems like a good opportunity with a defined stop.
By Nick Perry of Schaeffer's Trading Floor Blog