Latest EUR/USD Activity Represents a Slightly Bullish Consolidation
10/09/2008 11:30 am EST
Focus: FOREX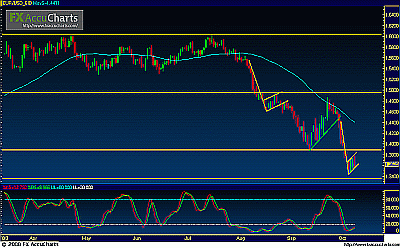 (Price on 1st pane, Slow Stochastics on 2nd pane; uptrend line in green; horizontal support/resistance levels in yellow; Fibonacci Retracements in grey; 50-period simple moving average in light blue.)
Within the past few days, a tight consolidation on the EUR/USD (a daily chart of which is shown) has formed a rough inverted flag pattern. The flagpole represents the massive drop that has occurred in the pair within the last two weeks.
Three subsequent bars after the sustained plummet represent a slightly bullish consolidation/correction that strongly hints at indecision in the market. Watch for any strong, sustained breakout below the lower border of the flag, which would fulfill the flag's common role as a continuation pattern.
In this event, strong support to the downside, below the entire flag, resides around the key 1.3350 historical support/resistance region.
By James Chen, Chief Technical Analyst, FX Solutions