Breakout Opportunity for USD/JPY
10/20/2008 11:56 am EST
Focus: FOREX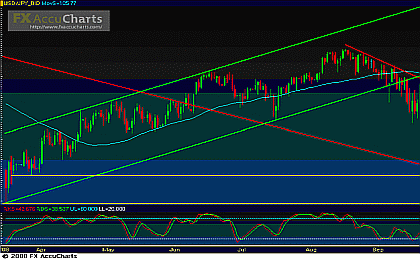 (Price on 1st pane, Slow Stochastics on 2nd pane; uptrend lines in green; downtrend lines in red; horizontal support/resistance levels in yellow; chart pattern in grey; 50-period simple moving average in light blue.)
Like several other currently consolidating pairs, the USD/JPY has recently been forming a significant triangle pattern consolidation. Any strong breakout of this triangle, whether to the upside or downside, should represent a significant breakout trading opportunity.
There is a slight bias for an eventual break to the downside, since triangles are often considered continuation patterns, and the trend preceding the triangle was clearly a downtrend. In the event of a breakdown below the bottom border of this triangle, the next major support to the downside resides around the 98.50 price region, a significant prior support/resistance level.
A clean break to the upside, on the other hand, should likely target strong upside resistance around the level of the downtrend resistance line (in red).
By James Chen, Chief Technical Analyst, FX Solutions