Looking for Support in EUR/USD Daily Chart
10/28/2008 9:54 am EST
Focus: FOREX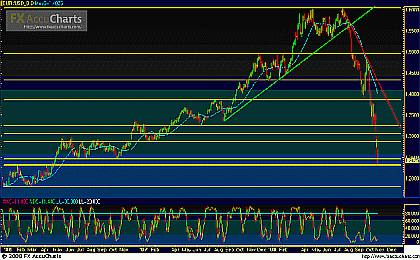 (Price on 1st pane, Slow Stochastics on 2nd pane; uptrend line in green; downtrend line in red; horizontal support/resistance levels in yellow; 50-period simple moving average in light blue.)
Since the second peak of the double-top high was hit in mid-July, price on the EUR/USD daily chart, as shown, has plummeted drastically, with only one major correction in September. After this correction, price has continued to drop in an unprecedented manner without much of a rest. In the process, price has broken down below support level after support level, finally to end up at a 2 ? year historical low as of this writing on Monday, 10/27/2008.
At this point, the pair is severely oversold, but oscillator readings can continue to be in prolonged states of oversold/overbought during strongly trending markets like what we are seeing now. Price currently continues to appear bearishly biased. In the event of continued downside momentum and a break below the recent low reached around 1.2330, the next major support target to the downside eventually resides around the 1.1800 region.
Before this level may be potentially reached, however, corrections and/or consolidations should be in order. In the event of a significant correction to the upside, key resistance currently resides around the 1.2860 region, and then the 1.3050 region.
By James Chen, Chief Technical Analyst, FX Solutions